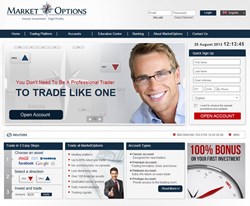 (PRWEB UK) 29 August 2013
MarketOptions provides a payout of 85%; the highest in the industry. The firm enables trading a range of over 100 currency pairs, stocks, indices and commodities. Investors have the opportunity to trade assets such as gold, FTSE 100, and NASDAQ.
The trading platform empowers clients to make informed decisions by providing them with a constant flow of information regarding the traded assets; this increases reliability and reduces the risk of slippage. The platform also presents detailed trading statistics on each asset, thus enabling clients to optimize their investment decisions.
The company provides an extensive range of news items, including daily market reviews, trading signals, and an advanced economic calendar. These items are released on an ongoing basis and allow clients to become familiar with the most recent market events and developments. Furthermore, MarketOptions offers free trading signals, which are prepared by a team of expert analysts. Presenting traders with the oscillations of currency pairs and assets increases the profitability of future investments.
MarketOptions is distinguished for its exceptional live customer support, which is available for clients 24 hours a day. Its dedicated team of experts is ready to assist with any question that a customer may have, including assistance with trading, guidance regarding investment strategies, as well as building a coherent investment portfolio.
About MarketOptions
MarketOptions is an international investment company that specializes in digital options. It offers a wide range of currency pairs, stocks and commodities. The company is committed to provide award-winning trading platforms, dedicated support for its diverse clientele, and a secure trading environment. It is comprised of a team of financial professionals with vast experience. The firm's commitment extends to trading a variety of assets from real-time charts, the direct execution of trades, and always acting in the client's best interest. MarketOptions takes pride in transforming ordinary traders into experts.