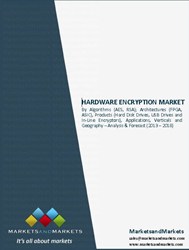 Rockville, MD (PRWEB) August 01, 2013
Hardware Encryption Market - By Algorithms (AES, RSA), Architectures (FPGA, ASIC), Products (Hard Disk Drives, USB Drives and In-Line Encryptors), Applications, Verticals and Geography - Analysis & Forecast (2013 – 2018)
The major difference between hardware encryption and software encryption is that in hardware based encryption, encryption and decryption processes are done by a dedicated processor on the hardware encrypted device. In software encryption, the resources of the device on which the software is installed, are used for the encrypting and decrypting the data. This makes hardware encryption much faster. Another advantage to hardware encryption is that the cryptographic key is stored in a separate inaccessible portion of memory storage, thus making it more secure than software encryption.
The global hardware encryption market revenue is expected to reach $14.86 billion by the end of 2013 is expected to grow to $166.67 billion in 2018 at a CAGR of 62.17%. Similarly, volumes are estimated to grow from roughly 59.76 million units to 691.79 million units in 2018 at a CAGR of 63.20%. This growth is heralded by the growing consumer electronics applications market for hardware encryption products. The hardware encryption applications in the Military Defense and Aerospace (MDA) applications sector is also expected to grow rapidly in the coming five years.
This report also looks into the whole value chain of the hardware encryption market. It also focuses on the parent markets and the sub-markets of this industry and thus identifies the total potential market that can be tapped by hardware encryption. The market penetration of hardware encrypted HDDs into this TAM stands at 20.07% in 2013 and is expected to grow to 69.05% by 2018. Similarly, the market penetration of hardware encrypted USB drives into this TAM stands at 33.17% in 2013 and is expected to grow to 63.81% by 2018.
The report, based on an extensive research study of the global market and the related semiconductor and products industries, is aimed at identifying the entire market of hardware based encryption systems in all the applications. The report covers the overall market and sub-segment markets through extensively detailed classifications, in terms of both revenue and shipments.
To order this report:
Hardware Encryption Market - By Algorithms (AES, RSA), Architectures (FPGA, ASIC), Products (Hard Disk Drives, USB Drives and In-Line Encryptors), Applications, Verticals and Geography - Analysis & Forecast (2013 – 2018)
Contact: Shauna
800.298.5699
Customerservice(at)marketresearch(dot)com
About MarketsandMarkets
The MarketsandMarkets edge: Worldwide, market research reports are primarily sold for numbers, market segmentation and competitive landscape, within the business leaders.
The analyst working with MarketsandMarkets come from the renowned publishing houses and market research firms globally adding their expertise and domain understanding. We get the facts from over 22,000 news and information sources, a database of hundred thousands of key industry participants and draw on our relationship with more than 900 market research companies globally.
In course of our ongoing relationship with research partners for over a period of three years, our clients have discovered that we can not only head-start any given research project immediately but also execute it in a stipulated time frame. We always prioritize our commitments of confidentiality. The fact that a high percentage of our business comes from client referrals bears ample testimony to the quality of our market research reports.
About MarketResearch.com
MarketResearch.com is the leading provider of global market intelligence products and services. With research reports from more than 720 top consulting and advisory firms, MarketResearch.com offers instant online access to the world's most extensive database of expert insights on global industries, companies, products, and trends. Moreover, MarketResearch.com's Research Specialists have in-depth knowledge of the publishers and the various types of reports in their respective industries and are ready to provide research assistance. For more information, call Cindy Frei at 240.747.3014 or visit http://www.marketresearch.com
Follow us on Facebook http://www.facebook.com/marketresearchdotcom
Follow us on Twitter http://www.twitter.com/marketresearch_
Hardware Encryption Market - By Algorithms (AES, RSA), Architectures (FPGA, ASIC), Products (Hard Disk Drives, USB Drives and In-Line Encryptors), Applications, Verticals and Geography - Analysis & Forecast (2013 – 2018) – Table of Contents:
1 Introduction
2 Executive Summary
3 Market Overview
4 Industry Characteristics
5 Market Analysis
6 Market In Smartphone And Tablet Applications
7 Market By Encryption Algorithms & Architectures
8 Market By Products
9 Market By Application
10 Market By Verticals
11 Market By Geography
12 Competitive Landscape
13 Company Profiles (Overview, Products And Services, Financials, Strategy & Development)*
List Of Tables
Table 1 Global Hardware Encryption Market Revenue, By Geography, 2011 - 2018 ($million)
Table 2 Global Hardware Encryption Market Volume, By Geography, 2011 - 2018 (Million Units)
Table 3 Global Hardware Encryption (Products) Market Revenue ($billion) And Volume (Million Units), Year-on-year Growths And A.S.P, 2011 - 2018
Table 4 Global Software Encryption Market Revenue, 2011 - 2018 ($billion)
Table 5 Global Hardware Encrypted Hdd Market Revenue ($million), Tam (For Hdd) And Market Penetration, 2011 - 2018
Table 6 Global Hardware Encrypted Usb Drive Market Revenue ($million), Tam (For Usb Drives) And Market Penetration, 2011 - 2018
Table 7 Hardware Encryption Market - Cost & Pricing Analysis Of Various Products ($usd), 2011 - 2018
Table 8 Quantification Of Overall Poter's Analysis
Table 9 Quantification Of The Bargaining Power Of Suppliers
Table 10 Quantification Of The Bargaining Power Of Buyers
Table 11 Quantification Of Threat From New Entrants
Table 12 Quantification Of Threat From Substitutes
Table 13 Quantification Of The Degree Of Competition
Table 14 Global Hardware Encryption Chipset In Smartphone And Tablet Applications Market Revenue ($million), Volume (Million Units) And Asps ($), 2011 - 2018
Table 15 Aes: Hardware Encryption Market (Products) Revenue ($billion) And Volume (Million Units), 2011 - 2018
Table 16 Rsa: Hardware Encryption Market (Products)Revenue ($billion) And Volume (Million Units), 2011 - 2018
Table 17 Others: Hardware Encryption Market (Products) Revenue ($billion) And Volume (Million Units), 2011 - 2018
Table 18 Global Hardware Encryption Market (Products), By Architechtures Revenue ($billion) And
Volume (Million Units), 2011 - 2018
Table 19 Global Hardware Encryption Market (Products), By Connectivity Environments, Revenue ($billion) And
Volume (Million Units), 2011 - 2018
Table 20 Global Hardware Encryption Market Revenue, By Products, 2011 - 2018 ($billion)
Table 21 Global Hardware Encryption Market Volume, By Products, 2011 - 2018 (Million Units)
Table 22 Global Hardware Encryption Market Average Selling Prices, By Products, 2011 - 2018 ($)
Table 23 Global Hdd Hardware Encryption Market Revenue, By Type, 2011 - 2018 ($million)
Table 24 Global Hdd Hardware Encryption Market Volume, By Type, 2011 - 2018 (Million Units)
Table 25 Global Hdd Hardware Encryption Market Revenue, By Geography, 2011 - 2018 ($million)
Table 26 Global Hdd Hardware Encryption Market Volume, By Geography, 2011 - 2018 (Million Units)
Table 27 North America: Hdd Hardware Encryption Market Revenue, 2011 - 2018 ($million)
Table 28 North America: Hdd Hardware Encryption Market Volume, 2011 - 2018 (Million Units)
Table 29 Europe: Hdd Hardware Encryption Market Revenue, 2011 - 2018 ($million)
Table 30 Europe: Hdd Hardware Encryption Market Volume, 2011 - 2018 (Million Units)
Table 31 Hdd Hardware Encryption Market Revenue, 2011 - 2018 ($million)
Table 32 Apac: Hdd Hardware Encryption Market Volume, 2011 - 2018 (Million Units)
Table 33 Row: Hdd Hardware Encryption Market Revenue, 2011 - 2018 ($million)
Table 34 Row: Hdd Hardware Encryption Market Volume, 2011 - 2018 (Million Units)
Table 35 Global Hardware Encrypted Hdds With Authentication Market Revenue, By Type, 2011 - 2018 ($million)
Table 36 Global Solid-sate Drive (Ssd) Hardware Encryption Market Revenue, By Algorithm, 2011 - 2018 ($million)
Table 37 Global Ssd Hardware Encryption Market Revenue, By Application, 2011 - 2018 ($million)
Table 38 Global In-line Hardware Encryptor Market Revenue, By Geography, 2011 - 2018 ($million)
Table 39 Global In-line Hardware Encryptor Market Volume, By Geography, 2011 - 2018 (Million Units)
Table 40 North America: In-line Hardware Encryptor Market Revenue, 2011 - 2018 ($million)
Table 41 North America: In-line Hardware Encryptor Market Volume, 2011 - 2018 (Million Units)
Table 42 Europe: In-line Hardware Encryptor Market Revenue, 2011 - 2018 ($million)
Table 43 Europe: In-line Hardware Encryptor Market Volume, 2011 - 2018 (Million Units)
Table 44 Apac: In-line Hardware Encryptor Market Revenue, 2011 - 2018 ($million)
Table 45 Apac: In-line Hardware Encryptor Market Volume, 2011 - 2018 (Million Units)
Table 46 Row: In-line Hardware Encryptor Market Revenue, 2011 - 2018 ($million)
Table 47 Row: In-line Hardware Encryptor Market Volume, 2011 - 2018 (Thousand Units)
Table 48 Hardware Encrypted Usb Drive Market Revenue, By Type, 2011 - 2018 ($million)
Table 49 Hardware Encrypted Usb Drive Market Volume, By Type, 2011 - 2018 (Million Units)
Table 50 Global Hardware Encrypted Usb Drive Market Revenue, By Geography, 2011 - 2018 ($million)
Table 51 Global Hardware Encrypted Usb Drive Market Volume, By Geography, 2011 - 2018 (Million Units)
Table 52 North America: Hardware Encrypted Usb Drive Market Revenue, 2011 - 2018 ($million)
Table 53 North America: Hardware Encrypted Usb Drive Market Volume, 2011 - 2018 (Million Units)
Table 54 Europe: Hardware Encrypted Usb Drive Market Revenue, 2011 - 2018 ($million)
Table 55 Europe: Hardware Encrypted Usb Drive Market Volume, 2011 - 2018 (Million Units)
Table 56 Apac: Hardware Encrypted Usb Drive Market Revenue, 2011 - 2018 ($million)
Table 57 Apac: Hardware Encrypted Usb Drive Market Volume, 2011 - 2018 (Million Units)
Table 58 Row: Hardware Encrypted Usb Drive Market Revenue, 2011 - 2018 ($million)
Table 59 Row: Hardware Encrypted Usb Drive Market Volume, 2011 - 2018 (Million Units)
Table 60 Global Hardware Encryption Market Revenue, By Application, 2011 - 2018 ($billion)
Table 61 Global Hardware Encryption Market Volume, By Application, 2011 - 2018 (Million Units)
Table 62 Consumer Electronics: Hardware Encryption Market Revenue, By Sub-application, 2011 - 2018 ($billion)
Table 63 Consumer Electronics:hardware Encryption Market Volume, By Sub-application, 2011 - 2018 (Million Units)
Table 64 Consumer Electronics: Hardware Encryption Application Market Revenue, Cross-segmentation By Products, 2011 - 2018 ($million)
Table 65 Consumer Electronics: Hardware Encryption Application Market Volume, Cross-segmentation By Products, 2011 - 2018 (Million Units)
Table 66 Communication Networking Security:hardware Encryption Application Market Revenue, Cross-segmentation By Products, 2011 - 2018 ($million)
Table 67 Communication Networking Security: Hardware Encryption Application Market Volume, Cross-segmentation By Products, 2011 - 2018 (Million Units)
Table 68 Automotive & Transportation: Hardware Encryption Application Market Revenue, Cross-segmentation By Products, 2011 - 2018 ($million)
Table 69 Automotive & Transportation: Hardware Encryption Application Market Volume, Cross-segmentation By Products, 2011 - 2018 (Million Units)
Table 70 Mda: Hardware Encryption Application Market Revenue, By Sub-applications, 2011 - 2018 ($billion)
Table 71 Mda: Hardware Encryption Application Market Revenue, Cross-segmentation By Products, 2011 - 2018 ($million)
Table 72 Mda: Hardware Encryption Application Market Volume, Cross-segmentation By Products, 2011 - 2018 (Million Units)
Table 73 Healthcare: Hardware Encryption Application Market Revenue, Cross-segmentation By Products, 2011 - 2018 ($million)
Table 74 Healthcare: Hardware Encryption Application Market Volume, Cross-segmentation By Products, 2011 - 2018 (Million Units)
Table 75 Emerging & Other Applications: Hardware Encryption Application Market Revenue, Cross-segmentation By Products, 2011 - 2018 ($million)
Table 76 Emerging & Other Applications: Hardware Encryption Application Market Volume, Cross-segmentation By Products, 2011 - 2018 (Million Units)
Table 77 Global Hardware Encryption Market Revenue, By Verticals, 2011 - 2018 ($million)
Table 78 Global Hardware Encryption Market Volume, By Verticals, 2011 - 2018 (Million Units)
Table 79 Global Industrial Hardware Encryption Market Revenue, By Products, 2011 - 2018 ($million)
Table 80 Global Industrial Hardware Encryption Market Volume, By Products, 2011 - 2018 (Million Units)
Table 81 Global Commercial Hardware Encryption Market Revenue, By Products, 2011 - 2018 ($million)
Table 82 Global Commercial Hardware Encryption Market Volume, By Products, 2011 - 2018 (Million Units)
Table 83 Global Residential Hardware Encryption Market Revenue, By Products, 2011 - 2018 ($million)
Table 84 Global Residential Hardware Encryption Market Volume, By Products, 2011 - 2018 (Million Units)
Table 85 Global Government Institutional Hardware Encryption Market Revenue, By Products, 2011 - 2018 ($million)
Table 86 Global Government Institutional Hardware Encryption Market Volume, By Products, 2011 - 2018 (Million Units)
Table 87 Global Hardware Encryption Market Revenue, By Geography, 2011 - 2018 ($million)
Table 88 Global Hardware Encryption Market Volume, By Geography, 2011 - 2018 (Million Units)
Table 89 North America: Hardware Encryption Market Revenue,Volume And Asps,2011 - 2018 ($million)
Table 90 U.S.: Hardware Encryption Market Revenue, Volume And Asps,2011 - 2018 ($million)
Table 91 Other Countries Of North America: Hardware Encryption Market Revenue, Volume And Asps,2011 - 2018 ($million)
Table 92 Europe: Hardware Encryption Market Revenue, Volume And Asps,2011 - 2018 ($million)
Table 93 U.K.: Hardware Encryption Market Revenue, Volume And Asps,2011 - 2018 ($million)
Table 94 Germany: Hardware Encryption Market Revenue, Volume And Asps,2011 - 2018 ($million)
Table 95 France: Hardware Encryption Market Revenue, Volume And Asps, 2011 - 2018 ($million)
Table 96 Other Countries Of Europe: Hardware Encryption Market Revenue, Volume And Asps, 2011 - 2018 ($million)
Table 97 Apac: Hardware Encryption Market Revenue, Volume And Asps,2011 - 2018 ($million)
Table 98 China: Hardware Encryption Market Revenue, Volume And Asps, 2011 - 2018 ($million)
Table 99 Japan: Hardware Encryption Market Revenue, Volume And Asps, 2011 - 2018 ($million)
Table 100 South Korea: Hardware Encryption Market Revenue, Volume And Asps,2011 - 2018 ($million)
Table 101 India: Hardware Encryption Market Revenue, Volume And Asps, 2011 - 2018 ($million)
Table 102 Other Countries Of Apac: Hardware Encryption Market Revenue, Volume And Asps,2011 - 2018 ($million)
Table 103 Row: Hardware Encryption Market Revenue, Volume And Asps, 2011 - 2018 ($million)
Table 104 Latin America: Hardware Encryption Market Revenue, Volume And Asps, 2011 - 2018 ($million)
Table 105 The Middle East: Hardware Encryption Market Revenue, Volume And Asps,2011 - 2018 ($million)
Table 106 Other Countries Of North America: Hardware Encryption Market Revenue, Volume And Asps,2011 - 2018 ($million)
Table 107 Hardware Encrypted Hdd Players And Rankings, 2013
Table 108 Hardware Encrypted Usb Flash Drive Players And Rankings, 2013
Table 109 New Product Launches/Developments (2010 – 2013)
Table 110 Mergers & Acquisitions (2009 – 2013)
Table 111 Partnerships/Agreements/Strategic Alliance/ Collaborations (2010 – 2013)
Table 112 Contract/Deployment/Awards/Certifications (2011 – 2013)
Table 113 Certes Networks: Products & Services
Table 114 Imation: Total Revenue, 2010 - 2012 ($million)
Table 115 Maxim Integrated Products: Total Revenue, 2011 - 2012 ($million)
Table 116 Micron Technology: Total Revenues, 2010 - 2012 ($million)
Table 117 Netapp: Total Revenues, 2011 - 2013($million)
Table 118 Netapp: Total Revenueby Geographic Area, 2011 - 2013 ($million)
Table 119 Samsung Electronics: Total Revenues, 2010 - 2012 ($billion)
Table 120 Sandisk: Total Revenues, 2010 - 2012 ($million)
Table 121 Seagate Technology: Total Revenue, 2010 - 2012 ($million)
Table 122 Toshiba: Total Revenue, 2011 - 2012 ($million)
Table 123 Viasat: Total Revenues, 2011 - 2013($million)
Table 124 Viasat: Total Revenues, By Geographic Area, 2011 - 2013 ($million)
Table 125 Western Digital: Total Revenues, 2010 - 2012 ($million)
Table 126 Western Digital: Total Revenues, By Geographic Area, 2010 - 2012 ($million)
List Of Figures
Figure 1 Hardware Encryption Industry Monetary Chain & Market Scope
Figure 2 Research Methodology
Figure 3 Market Size Estimation Methodology
Figure 4 Data Triangulation Methodology
Figure 5 Global Hardware Encryption (Products) Market Revenue ($billion) And Volume (Million Units), 2011 - 2018
Figure 6 Market Overview – Tree Structure
Figure 7 Global Hardware Encryption (Products) Market Revenue ($billion) And Volume (Million Units), 2011 - 2018
Figure 8 Hardware Encryption Industry Revenue Breakdown (With Forecasts)
Figure 9 Percentage Split-up Of Hardware And Software Encryption Market Revenue, 2012 - 2018
Figure 10 Market Penetration Of Hardware Encrypted Hdds And Usb Drives In The Respective Tams, 2011 - 2018
Figure 11 Industry Analysis – Tree Structure
Figure 12 Hardware Encryption Industry Value Chain
Figure 13 Market Investment Analysis
Figure 14 Market Analysis – Tree Structure
Figure 15 Impact Analysis Of Drivers With Forecast, 2013 - 2018
Figure 16 Supply & Demand-side Factor Analysis
Figure 17 Market Stages Of Hardware Encrypted Products, 2013
Figure 18 Porters Analysis For The Hardware Encryption Market
Figure 19 Supplier Bargaining Power In The Hardware Encryption Market
Figure 20 Buyer Bargaining Power In The Hardware Encryption Market
Figure 21 Threat From New Entrants In The Hardware Encryption Market
Figure 22 Threat From Substitutes In The Hardware Encryption Market
Figure 23 Degree Of Competition In The Hardware Encryption Market
Figure 24 Porter's Analysis For The Hardware Encryption Market, 2013
Figure 25 Porter's Analysis For The Hardware Encryption Market, 2015
Figure 26 Porter's Analysis For The Hardware Encryption Market, 2017
Figure 27 Total Market Volume Comparison- Chipsets And Products
Figure 28 Total Market Volume Comparison- Chipsets And Products
Figure 29 Market By Products – Tree Structure
Figure 30 Average Selling Prices Of The Hardware Encryption Product Segments, 2011 - 2018
Figure 31 How Hardware Encryption Of Hdds Helps
Figure 32 Market By Application – Tree Structure
Figure 33 Market By Products – Tree Structure
Figure 34 Market By Geography – Tree Structure
Figure 35 Global Hardware Encrypted Hdd - Market Shares, 2013
Figure 36 Global Hardware Encryption Market–major Players Key Focus Area & Impact Analysis, 2013 - 2018
Figure 37 Gsmk Cryptophone: Products & Services
Figure 38 Imation: Products & Services
Figure 39 Kanguru Solutions: Products & Solutions
Figure 40 Swot Analysis Of Kanguru Solutions
Figure 41 Kingston Technology: Products & Services
Figure 42 Koolspan Inc.: Products & Services
Figure 43 Merlincryption: Products & Services
Figure 44 Merlincryption Llc: Swot Analysis
Figure 45 Micron Technology: Products & Services
Figure 46 Netapp: Products & Services
Figure 47 Samsung Electronics: Products & Services
Figure 48 Sandisk: Products & Services
Figure 49 Seagate Technology: Products & Services
Figure 50 Secfone: Products & Services
Figure 51 Secfone: Swot Analysis
Figure 52 Secude: Products & Services
Figure 53 Secude: Swot Analysis
Figure 54 Toshiba: Products & Services
Figure 55 Viasat: Products & Services
Figure 56 Western Digital: Products & Services
Figure 57 Winmagic: Products & Services