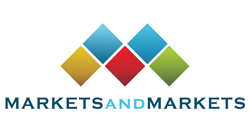 CHICAGO (PRWEB) September 19, 2018
WHAT:
Increasing demand for mobile data services, rising importance of software implementation in a communication network, growing machine-to-machine communication and rising demand for high-speed and large network coverage are driving the need for 5G infrastructure solutions. In fact, research shows that the 5G infrastructure market is estimated to be valued at USD 2.86 billion in 2020 and is further projected to reach USD 33.72 billion by 2026, at a CAGR of 50.9 percent between 2020 and 2026.
MarketsandMarkets, the world's largest revenue impact research and advisory firm focused on high-growth niche markets, will host a webinar, titled "5G Infrastructure – Trends to Watch Out For in 2018." The informative webinar will cover key trends in the 5G infrastructure market and commercial product outlook that is shaping the next evolution of industrial and commercial operations and connectivity.
Attendees will gain insights into:

Key trends in the 5G infrastructure market impacting vendors/manufacturers and end-use applications globally
Major applications across industries that contribute largely to the revenue of the 5G infrastructure
Analysis of global communication infrastructure shipments and competitive landscape analysis of key vendors impacting the 5G infrastructure market
WHO:
Key Speaker - Sachin Garg, Practice Head, Semiconductor and Electronics at MarketsandMarkets
WHEN:
Wednesday, Oct. 3, 2018 at 11:00 a.m. to 12:00 p.m. ET
WHERE:
For more information and to register: https://www.marketsandmarkets.com/EngageForums/5G_Infrastructure_Market.asp
About MarketsandMarkets
MarketsandMarkets provides quantified B2B competitive intelligence research on high-growth emerging niche markets that will impact future revenue mix of 70-80 percent of companies worldwide. Following its unique Growth Engagement Model (GEM), MarketsandMarkets helps clients identify new opportunities, most important customers and sources of incremental revenues for both the clients and their competitors as well as develop "attack, avoid and defend" strategies. With more than 850 fulltime analysts and subject matter experts (SMEs), the company serves more than 7,500 corporate clients worldwide, including 80 percent of global Fortune 2,000 companies. Its global headquarters is located in Pune, India, and the U.S. headquarters is in Chicago. For more information, visit http://www.marketsandmarkets.com/ or follow on Twitter @MarketsMarkets.
# # #