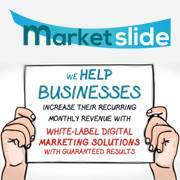 (PRWEB) October 14, 2014
Marketslide announces the launch of its zero risk SEO guarantee, providing web design firms, marketing consultants, and agencies an affordable white-label traffic generation solution with zero risk to their firm and clients.
Boasting a technical team with over 10 years' experience in developing proprietary search engine traffic building methodologies, they now offer fast rankings in 90 days or less.
Partners have access to the Marketslide dashboard designed to centralize all on-site & off-site SEO analytics, backlink reports, web analytics, content marketing and social media management. With this dashboard, partners can easily monitor & improve campaign success.
"We have been developing our proprietary SEO methodology for over 5 years that closely models the natural elements search engines are looking for when ranking a website."
Says Paul Ryan, Head of Strategy.
The zero risk guarantee designed by Marketslide was made to compliment their clients current result driven business model. The guarantee offers 100% money-back if targeted keywords are not ranked on the first page after 6 months.
"We created our Guarantee because we wanted to align our business with the needs of our partner agencies and bring's trust to an industry that has a lot of spammers. In addition to that, the search engines keep changing the way they determine rankings and we are constantly monitoring this and making sure we do stuff that works today, not stuff from five years ago." Says Mark Ford, Head of Creative
"The guarantee is simple" says Mark Ford, "If our clients are not completely thrilled with the results, we either do what we say we are going to do or they pay nothing. Nothing as in $0.00. Not a $100, or $10, or even $1, nothing." He goes on to say, "We guarantee we will get our clients or their client's site to a top 10 listing on the search engines within 90 days or less. If we fail to do this, we will work for another 90 days for free. If we are still not able to rank a client's site within 180 days, we will return all fees paid, No questions asked, No hassle, No delay."
About Marketslide:
Marketslide is a white-label digital traffic generation agency offering SEO, PPC, and Social Media Advertising. Marketslide offers unique guarantee not found with other agencies. With Marketslide, businesses can provide premium SEO services with 100% transparency to their customers, which in turn generate their clients more revenue. Getting started is fast and easy. Customer service is available over the phone every day of the year and all hours of the day.
To get started with Marketslide, visit http://marketslide.com/top-10-google-ranking A free 60 day campaign of Marketslide's SEO services is available for businesses interested in getting their clients ranked regardless of what changes are being made with the search engines. Sign up at: http://marketslide.com/top-10-google-ranking
For more information visit http://marketslide.com
Press Contacts:
Paul Ryan
paul.ryan@marketslide.com
(443) 598-2416