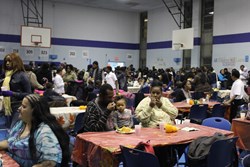 Bring Dinner Home provides families with the resources that help unite communities during the holiday season.
Newark, NJ (PRWEB) October 22, 2013
Over 90 percent of the children from the Camden Street School in Newark, NJ are impoverished. Nearly 50 percent of these children are considered special needs. School Principal Sam Garrison launched the "Bring Dinner Home" program in order to help alleviate this hunger and engage families with their children's school activities by celebrating Thanksgiving together.
In 2012, the inaugural year for the event and charity, donations raised totaled over $15,000, helping 900 people and 500 families by providing them with a meals and school supplies. For its second year, Marketsmith has raised the bar to help more families in the community. Marketsmith announced that they have increased their fundraising goal this year to $20,000 for "Bring Dinner Home" at the Camden Street School. 100 percent of the funds will go to providing meals, school supplies, and other essentials to the underprivileged families of Camden Street School.
Marketsmith is also sponsoring a pre-Thanksgiving meal for the families on Thursday, November 14, 2013 at the Camden Street School. The goal of the dinner, hosted by Marketsmith and Principal Garrison of the Camden Street School, is to help bring the community together and have the families share a meal together during the holiday season.
"Bring Dinner Home provides families with the resources that help unite communities during the holiday season," said Monica C. Smith, CEO and founder of Marketsmith. "We are again supporting underprivileged schools where more than 90 percent of families fall below the poverty line. Our team urges communities to get together and help provide other families with what we are capable of enjoying every Thanksgiving."
Contribute to the Camden Street School and help feed families this Thanksgiving by sending your donation, made out to Camden Street School, with "Bring Dinner Home" in the memo, to Kathy Saccente at Marketsmith Inc., 14 Walsh Drive, Suite 200 Parsippany, New Jersey 07054. Please send donations by November 8, 2013.
For more information and to contribute, please click here.
About Marketsmith
Founder and CEO, Monica C. Smith, established Marketsmith in 1999 when she recognized a need in the marketplace for a holistic approach to multi-channel marketing. Managing over $200 million dollars of media spend per year across TV, radio, print, digital, and direct, and over $1 billion dollars driven annually at retail, Marketsmith has a proven history of success in both launching and managing initiatives for large and small brands. Marketsmith builds and manages direct to consumer business models and specializes in data science to drive business growth for Fortune 500 and other leading enterprises. As a strategic marketing firm specializing in analytics-driven campaign management, Marketsmith provides its clients with tactical plans which drive accountable results.
Named the 389th fastest growing business by Inc. 500, Marketsmith specializes in analytics-driven campaign management that encompasses big data, market research, digital strategies and media management to optimize campaign performance. Marketsmith is committed to innovation and excellence that is substantiated by comprehensive data and a positive ROI for clients. For more information about Marketsmith, visit http://www.marketsmithinc.com.