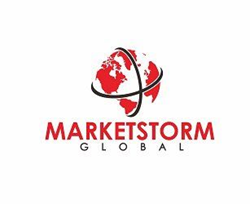 Miami, Florida (PRWEB) October 07, 2017
With offices across the world in the U.S, U.K, and Europe, CEO of MarketStorm Global knows a thing or two about not only establishing a positive company-wide culture but maintaining it too.
About MarketStorm Global: http://www.marketstormglobal.com/about-us/
The firm, which has headquarters in Miami, Florida, prides itself on its ability to go from strength to strength and the MarketStorm Global brand has become globally recognized for its personalized approach to sales and marketing since setting up shop in Leeds, England back in 2012.
The company is not only a known as a powerhouse in the sales and marketing industry but also has a proven track record for launching the careers of many other successful business owners over the years. Mr Walsh often speaks on being proudly passionate about the career development of each and every one of MarketStorm Global's brand ambassadors.
In addition to these factors, the business leader has exclusively revealed three other key things the company always considers, all of which have a beneficial impact on the enterprise culture:
1) If there is a problem, confront it
Mr. Walsh is a firm believer of acknowledging mistakes and dealing with issues head-on. If company morale is lapsing or there is a matter within a particular area, it is vital for business owners to acknowledge this. Taking an unfiltered look at the situation at hand allows companies to discover what solutions must be implemented to fix the problem. Sugar-coating the truth simply encourages a company to become complacent and eventually this will result in stagnant operations. "The only way to fix the issue is to admit you have one," says Mr. Walsh.
2) Don't shy away from heart-to-hearts
The CEO recognizes how important it is to appear present and genuinely invested in every employee and for this reason, he reveals he isn't afraid of sitting down for one-on-ones with his contractors. Clearly and concisely specifying any issues or cultural misinterpretations with those that are struggling allows both parties to establish a clear picture of where the company is headed and consider whether this new direction works for them. During these talks, Gavin encourages other leaders to focus on progress and not rapid change as this is likely to seem stressful to staff.
3) Shameless self-promotion
Reiterate the actions, values, and behaviors expected of the company on every possible occasion. By creating opportunities and reasons to discuss the kind of culture that is desired, members of the workforce are given a chance to consider what each of these things means to them. Gavin Walsh recommends business owners should be prepared to shout from the rooftops about the type of company culture they want to achieve.
MarketStorm Global is Miami's premier marketing firm with market reach spreading across the U.S. The company specializes in a personalized form of marketing which allows them to connect with their clients' ideal consumers via face-to-face interactions. To find out more about the company and stay in the knows with business developments, like their Facebook page or follow them on Twitter.