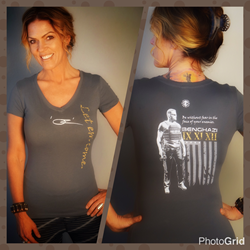 The phrase on the shirt, 'let 'em come' is what I said during the Benghazi battle. Those who have read the book 13 Hours or watched the movie of the same name will recognize that and I hope will wear this shirt proudly. - Mark "OZ" Geist
Nashville, Tenn. (PRWEB) January 16, 2017
Open the Cage Gear, LLC, a multifaceted lifestyle company and Mark "OZ" Geist, member of the Benghazi Annex Security Team and co-author of the book "13 Hours," have partnered to release the first apparel items in their Hero Line. The Hero Line is a unique part of Open the Cage Gear that intends to draw attention to heroes that have served America and sacrificed for the cause of freedom. Geist's first item is a t-shirt designed with the phrase, "Let 'em come" on the front, and a screened photo of him in the back with a powerful message directly from Geist. The shirt is available in both men's and ladies cuts in military green and charcoal.
"Open the Cage, LLC wants to give back to the many different veteran groups, and the Open the Cage Hero Line will raise awareness with current issues that face servicemen and women," said Open the Cage CEO Jim Kinsey. "We are working with several other individuals and groups to expand the Hero Line, including working on more designs with the Chris Kyle Frog Foundation."
"It's one thing to hear a story of survival – however, it is greatly amplified when you hear the firsthand account from these mighty warriors and their families that lived and experienced the chaos of battle. It brings a whole new appreciation, reverence and understanding to the brave souls that selflessly volunteer their life for the preservation and safety of America. God Bless them and let's all honor them by loving one another. Peace and good will toward man," said Michael Connors, president of OTC Gear.
"The Hero Line is about Marines helping Marines, and vets helping vets as Kinsey is also a veteran of our military. We take care of our own and always have each other's back. Americans need to know there are people out there who still care with total disregard for themselves," said Mark "Oz" Geist. "The phrase on the shirt, 'let 'em come' is what I said during the Benghazi battle. Those who have read the book '13 Hours' or watched the movie of the same name will recognize that and I hope will wear this shirt proudly."
Open the Cage Gear's clothing line includes men's and woman's premium tops, hoodies, t-shirts and tanks in a variety of styles and colors that follow their tagline, "Life is a fight…Open the cage." Watch the video introduction to Open the Cage Gear at https://youtu.be/ySG6u6SShQ8 And watch Mark "Oz" Geist's OTC Moment by visiting https://youtu.be/sVYRE7iZbUk
Open the Cage Gear, LLC was founded by Jim Kinsey, an award-winning videographer and talented songwriter. The company is headquartered in Florence, Mont. with sales operations in Nashville, Tenn. Kinsey partnered with Nashville music artist Michael Connors and producer Mike Hartnett after they worked together on the song, "Open the Cage" in 2014.
About Open the Cage, LLC
Open the Cage, LLC is a multifaceted lifestyle company that includes Open the Cage Gear and OTC Music Group. The music side started first and gave birth to the Open the Cage Gear clothing line. Four friends and partners operate the music label: artist Michael Connors, multi-platinum producer Mike Hartnett, award-winning videographer and songwriter, Jim Kinsey and designer Curt Liddle. The success of original songs such as, "Red Platoon," "Remember the Fallen" by Billy Dawson, "The Legend" and "What Say You" have helped expand the Open the Cage brand. Learn more at http://openthecagegear.com