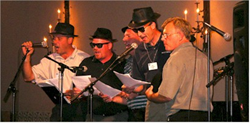 When I need to bring my staff together to make one coherent team, I now turn to Mark Sonder Productions.
Washington, DC (PRWEB) March 27, 2014
Mark Sonder, MM, CSEP and the Chief Entertainment Officer at the award winning music and entertainment agency Mark Sonder Productions, Inc. is proud to announce that his company can now energize your workforce through creativity and music due to its latest product to be added to its roster, Organizational Excellence Through Music.
Energize Your Workforce — Engage Their Creativity — Music Teamwork Consulting — Innovation and Music, is what the program Organizational Excellence Through Music accomplishes.
Organizational Excellence Through Music (OETM) is a collaboration between great musicians and experienced organizational consultants who bring a uniquely powerful mix to clients' programs and events. And while we are definitely entertaining, we are not mere entertainment. Rather our music events are a powerful catalyst for teamwork and organizational change — using a variety of musical genres as our toolkit — to help organizations become higher performing, more innovative, and just plain cooler places to work.
Cutting edge music teamwork consulting that engages your people with innovation and music as they write and perform original songs about their business issues, and move into action to make an impact on those issues in innovative, creative ways. In addition to providing conference music, our world-renowned signature program brings event music with a teamwork consulting component for fun and results. Get Your People Up On the Stage is the motto of this program.
Call today to book Organizational Excellence Through Music. Only from Mark Sonder Productions +1-540-663-1640.
About Mark Sonder Productions, Inc.
Created in 1985 to fill a growing need for music, entertainment, speakers, headline entertainers and supportive production in corporate and association meetings, conventions and special events plus facilities, casinos and concerts, the company in its 29 years has worked in the US, Canada, Mexico, South America and Europe.
Contact: +1-540-636-1640 or msonder(at)marksonderproductions(dot)com