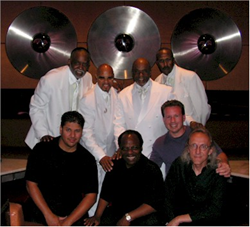 Love 'em, love 'em, love 'em. Linwood Peel and his group rocks!
New York, NY (PRWEB) March 27, 2014
Mark Sonder, MM, CSEP and the Chief Entertainment Officer at the award winning music and entertainment agency Mark Sonder Productions, Inc. is proud to announce that the 2014 On Broadway Tour of Linwood Peel's Stars from The Drifters, as well as their Motown Revue, has added more public concerts along the east coast.
Linwood Peel's Tribute to The Drifters are the national recognized leaders of this genre of music whose format is being rekindled yet again in a show performing in Las Vegas and in Europe.
From, "Under The Boardwalk," to "Stand By Me," and "This Magic Moment," plus "Up on the Roof," and of course, "On Broadway," these are the tunes everyone knows and still loves, in addition to Linwood's tribute to Motown which include some of the Top 40 Hits from The Temptations and The Four Tops.
Dates Just Added

March 30: Century Village, Deerfield Beach, FL 8:00pm
April 5: The Clemens Centre, Elmira, NY 8:00pm (Motown Revue)
May 3: Rochester Opera House, Rochester, NH 8:00pm (Motown Revue)
May 17: The Schwartz Center for the Performing Arts, Dover, DE 8:00pm with The Marvelettes
Call today to book Linwood Peel's Tribute to The Drifters +1-540-663-1640.
About Mark Sonder Productions, Inc.
Created in 1985 to fill a growing need for music, entertainment, speakers, headline entertainers and supportive production in corporate and association meetings, conventions and special events plus facilities, casinos and concerts, the company 29 years later has worked in the US, Canada, Mexico, South America and Europe.
Contact: +1-540-636-1640 or msonder(at)marksonderproductions(dot)com