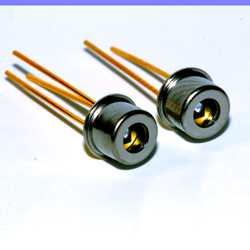 Vincent Forte, CTO of Marktech Optoelectronics, notes, "this series of InGaAs detectors are ideally suited for applications requiring sensing in the SWIR wavelength range such as spectrometers and other types of medical and diagnostic equipment."
Latham, NY (PRWEB) February 10, 2016
LATHAM, NEW YORK... Marktech Optoelectronics will feature their new high-speed InGaAs PIN photodiode packages at the SPIE Photonics West conference in San Francisco's Moscone Center from February 16-18, 2016, and at the healthcare-focused BiOS Expo on February 13 and 14 in the same venue.
These latest InGaAs PIN diode standard packages feature a TO-46 metal can with active areas of 1.0mm and 1.5mm with additional active areas available. View Marktech's Product Selector Guide to learn more.
With a wavelength range of 800nm - 1750nm, Marktech's InGaAs PIN photo diodes are near-infrared detectors featuring low noise, high sensitivity, high reliability, and high-speed response.
These new photo diodes offer considerable speed improvements in addition to increased light current response over the existing product offerings, a crucial benefit for applications like optical switches and chemical analysis for medical and diagnostic purposes.
Vincent Forte, CTO of Marktech Optoelectronics, notes, "The spectral range of our PIN diodes is approximately 0.8um to 1.75um. This series of InGaAs detectors are ideally suited for applications requiring sensing in the SWIR wavelength range such as spectrometers and other types of medical and diagnostic equipment. We offer a variety of active areas as well as options to combine both a SWIR emitter and detector in the same package."
With decades of expertise in optoelectronic packaging, Marktech offers InGaAs PIN photo detectors in standard high-reliability TO-46 metal can packages as well as custom package options. Additional testing and sorting is also available through their onsite testing lab located in Marktech's New York headquarters.
Marktech will be located at Photonics West booth 638, and at BiOS show booth 8943.