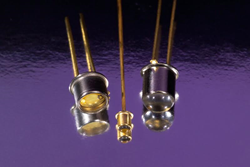 "This LED series yields superior results in critical sensing and scanning applications," noted Vince Forte, chief technology officer at Marktech."
Latham, NY (PRWEB) December 16, 2015
Marktech Optoelectronics, a leading supplier of visible and infrared LED sensor products, recently introduced the latest in their series of high power, 950nm LED emitters with typical power output up to 25 mW. 
Optimized for optical switches and sensors, the MTE9460 series is available in six standard packages with varying viewing angles and power outputs. 
"This LED series yields superior results in critical sensing and scanning applications," noted Vince Forte, chief technology officer at Marktech. "And our precision die placement ensures the highest quality and reliability, as well as extreme accuracy in high-speed applications."
There are numerous real-world applications for Marktech's 950 nm LED technology, Forte explained. "As an example, many night vision and surveillance/security cameras use IR LEDs to illuminate an area, making it visible in total darkness. These higher power LEDs allow a greater area to be illuminated and create clearer pictures."
Another use for LED emitters is machine vision systems. "Faster testing speeds and higher resolution analysis is a continual requirement for machine vision systems," said Forte. "The higher output signal and low noise level of our 950 nm LEDs ensures a more accurate reading."
Available packages for 950 nm LED emitters include:

Miniature ceramic packages: MTE9460MC and MTE9460CP
Plastic SMD: MTE9460MT
TO-18 metal can: MTE9460WC
Plastic domed and flat top: MTE9460N1 and MTE9460N2 
All six product types featured in the MTE 9460 series are available through Digi-Key.
Marktech also offers an extensive LED sensor product lineup targeted at industrial markets, specializing in high-accuracy applications. The MTE9460 series die, which utilizes the latest chip technology to achieve these high-power readings, can be configured into a number of TO can and lens standard options based upon application needs. In addition, Marktech can offer a variety of COB or custom array packaging.
About Marktech:
Marktech Optoelectronics, headquartered in Latham, New York, is a manufacturer of sensors and InP epi wafers. We also have onsite engineering and a design team that really set us apart. With over 30 years of experience in optoelectronic applications, as well as product design and improvement, we take the complexity out of choosing the right parts for the right applications in order to bring your product to market faster.
Marktech's support capabilities include onsite labs with state-of-the-art test equipment, allowing us to test and validate for all optical and electrical parameters. In addition to our sensor line, Marktech is a Cree Solutions Provider for their line of High Brightness LEDs and materials.
So tell us: What do you want to build?
Bring Marktech your idea; we can manage the entire process for you, from design to prototype, from testing to production and QA.