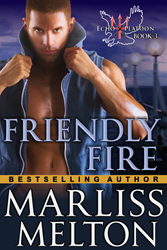 An old crush...a new mission
Shrewsbury, Pennsylvania (PRWEB) May 24, 2016
ePublishing Works! announces FRIENDLY FIRE by Marliss Melton, available in paperback (978-1-61417-848-4, 302 pages, $17.99 USD) and eBook format (978-1-61417-847-7, $5.99 USD).
Genre:
Fiction, Romance, Suspense, Military
The Story:
Boarding a cruise ship bound for Mexico, vacationing Navy SEAL Jeremiah "Bullfrog" Winters runs into Emma Albright, the only woman he ever loved... and lost.
Emma might still teach Romantic Lit at George Mason University, but life taught her there's no such thing as everlasting love. Good thing she can still enjoy her vacation without falling for the man who captivated her years earlier.
But re-awakening Emma's passions becomes Jeremiah's current mission until violence breaks out on their port excursion to the Mayan ruins of Tulum. Now, love may be the only weapon powerful enough to save them both, if Emma can bring herself to believe in its permanence and power.
Read an excerpt from the book by clicking here.
THE ECHO PLATOON SERIES, in order:
Danger Close
Hard Landing
Friendly Fire
Hot Target
Discover the entire series by clicking here.
From Marliss Melton:
"Authors aren't normal people; we see and experience the world differently. For instance, traveling heals the body and soul as it did for me two springs ago while recovering from a double mastectomy and dealing with marriage struggles. But that's not all...
My cruise through the Western Caribbean was intended to be relaxing; I was determined to enjoy myself. However, where other cruise ship passengers anticipate carefree adventures, my suspense-oriented mind imagines trouble. Are there terrorists lurking aboard ship? What happens if our shore expedition's tour bus is boarded by gun-toting bandits? These imaginings gave rise to Jeremiah and Emma's gripping love story in FRIENDLY FIRE, the theme of which is: How bad do things have to get before my hero and heroine accept the purity and power of their bond?
I am happy to report two years later, I am cancer-free and still married to my own hero. As we head to San Francisco this summer, I wonder what story might come out of my next travel adventure."
What Readers Say:
"...Marliss Melton stands above other writers..."--Amazon Reader
"Well written with personable characters."--NLW
"...so much chemistry!"--Liz
"I love this series!"--Marlene S
"...start and you can't stop!"--Amazon Reader
Meet Marliss Melton:
Bestselling Author Marliss Melton uses her Spec Ops and Intelligence communities to pen realistic and heartfelt stories featuring America's elite warriors. The daughter of a U.S. foreign officer, Melton grew up in various overseas countries, and now resides in Williamsburg, Virginia, with her husband and family. http://www.marlissmelton.com
Discover and Purchase this and other titles from Marliss Melton by clicking here.
FRIENDLY FIRE is available through online retailers, booksellers, subscription services and public libraries everywhere.
Wholesale buyers may order through Ingram or Baker & Taylor with return privileges.
About Epublishing Works:
ePublishing Works! is a next generation digital print, audio and ebook publisher for career-minded authors who want to focus on their passion: writing great stories. From digital file preparation, cover design, sales copy, promotion and distribution, to royalty payment, ePublishing Works takes care of business while authors enjoy the freedom to write. For more information and submission guidelines visit us at http://www.epublishingworks.com or click here to request information.