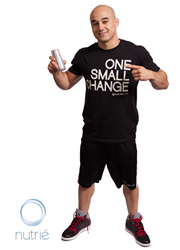 'For my last fight, I was 160lbs at the beginning of the camp and I made 135lbs easily! I'm feeling stronger and my weight is going down faster.' - Marlon Moraes
Scottsdale, Arizona (PRWEB) February 12, 2014
"I feel great to be representing such a great company as Nutrie," Moraes says. "I like to use Energe and Fuel during my training camps and when it gets close to the fight, I use Skinne to cut fat. All the products have been working great for me." Moraes notes: "For my last fight, I was 160lbs at the beginning of the camp and I made 135lbs easily! I'm feeling stronger and my weight is going down faster. Also, Energe gives me good concentration during training. My focus during sparrings, Brazilian Jujitsu and striking is much better!"
Moraes began as a Thai boxer in Brazil at the age of seven, and started training in Brazilian Jiu-Jitsu when he was 15 years old. He has won a couple Muay Thai National Championships in his day, but now trains full time as a mixed marital artist. In September 2012, Moraes signed with the World Series Of Fighting and on November 3, 2012 he made his professional debut at WSOF 1, defeating former WEC Bantamweight Champion Miguel Torres via split decision.
Moraes recently fought Carson Beebe at WSOF 6 on October 26, 2013, where he won via unanimous decision, knocking out Beebe in just thirty-two seconds of the first round.
Marlon recently attended the Nutrie Texas Takeover Regional Event in Dallas, Texas, where he went on stage as part of the Nutrie Athletes presentation, hosted by Nutrie President Aaron Parkinson. Moraes joined fellow Nutrie Elite Athletes, MMA welterweight Sheldon Westcott, and boxer Jelena Mrdjenovich. After the presentation, Marlon also mingled with the guests, signed autographs, and took pictures with fans.
The entire Nutrié family is thrilled to have Marlon on board and proud that the Automatic Body brand will be represented by Moraes in the WSOF cage. Nutrié President Aaron Parkinson says, "Mixed Martial Arts has always been a big part of my life. I am a huge fan. So to have an athlete like Marlon Moraes sign up with Nutrié because he's a fan of my product….there's nothing like it. It's an honor. I really look forward to collaborating with Marlon over the next year."
About Nutrié:
Founded in 2012 with headquarters in Scottsdale, Arizona, Nutrie is a health and wellness company that develops and markets products and programs for consumers to meet their health goals. The company is privately held.
The weight loss results and other health related experiences are not typical, are self-reported, and are applicable only to the individual(s) and do not reflect the results that a customer may achieve. Please see Nutrié's Health Disclaimer located at http://www.nutrie.com for more details.