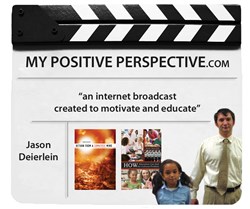 There is space between people who are in any relationship together.
Charleston, SC (PRWEB) September 16, 2013
On September 16, 2013, My Positive Perspective founder Jason Deierlein sat down with marriage and relationship coach Glenn Cohen. The goal of the broadcast was to raise the success of relationships and strengthen the results relationships entail. When Deierlein first asked Cohen about how he goes about achieving this, Cohen explains, "There are three different types of relationships I like to help couples with. They include the premarital couples who are looking to build a solid foundation in their relationship. Secondly, are committed couples who have fallen into a cycle of pain that result from a disconnection of contact. The third type is separated or divorced couples who have already made that decision but want a coach to help them go through the process amicably."
Later in the episode, Cohen brings to light a method he commonly uses in his practice something called the flow cycle. When asked to explain what the flow cycle is, Cohen says, "It's the intersection of neurobiology, memory and the aw of attraction. We look to find someone that helps us heal what was hurt prior to us meeting someone else."
At the conclusion of the episode Deierlein asks, "What would you say is something that you find yourself coaching in couples most of the time?" Cohen answers, "In couples you always have a space between the two and understanding and learning how to deal with that space in between is the most common problem co http://mypositiveperspective.com couples h __title__ ]have."
My Positive Perspective is a media outlet believing that improvement in our community will be best achieved by focusing on the good things happening in our world today. Having survived a near fatal car accident as a youth, a shift of perception forced one to have a mentality of always concentrating on the brighter sides of things. This was true, and in my book, Return From a Comatose Mind, this belief was put to the test. Appreciation for life was the biggest thing one took away from my brush with death, and it is because of that gives me such a huge desire to be helpful to many. My Positive Perspective is a way of overcoming challenges through positive thinking.