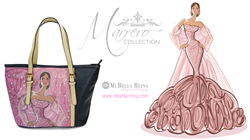 It's so exciting to see the launch of the first edition
Delray Beach, FL (PRWEB) August 07, 2014
The Marrero Collection of limited edition designer handbags is being launched exclusively at MiBellaReina.com today. The collection is the dream of celebrated fashion illustrator Carlos Marrero. Guaranteed to sellout quickly, the bags are one of a kind and a limited signed edition.
Marrero a long time high fashion illustrator for top magazines like Vogue and In Style, drew inspiration from his glamour artwork of women and high fashion. His artwork triggers visions of the glamorous women of the '40s and '50s with elaborate hairstyles, voluptuous gowns and chic jewelry. This is Marrero's first foray into the limited edition accessories market with this launch of women's handbags.
"I've always dreamed of seeing my illustrations come to life," said Marrero "It's so exciting to see the launch of the first edition of Marrero Collection handbags. It's a work of art and style that women can wear into the real world."
The collection boasts two fashion styles with the Emerald Glamour and the Rose Ambition. Designed for the ultra-modern woman who needs a versatile, highly functional tote, there is room for cosmetics, accessories and all other essentials. For more details on the Marrero Collection of designer handbags, or to shop for a handbag, go to Mi Bella Reina.
About Mi Bella Reina: Mi Bella Reina, which means "my beautiful queen" in Spanish is all about helping women to find their inner beautiful queen. Bella Reina was created by Nancy Reagan, a nationally recognized expert in beauty, nutrition, weight loss, skin care, and makeup. Nancy and Bella Reina Spa have been featured in the New York Times, WebMD, Les Nouvelles Esthetique & Spa, and PC Advisor for spa industry expertise and business success. To learn more about how Bella Reina is constantly innovating both shopping for the busy woman who needs results, please visit BellaReinaSpa.com or MiBellaReina.com.