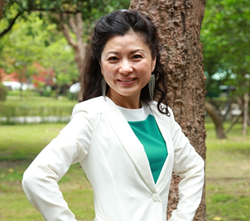 Many men and women entered into marriage with the idea that they could change the behavior of their partner
Los Angeles, CA (PRWEB) March 10, 2015
Three times #1 bestselling author and relationship master Hellen Chen has helped thousands of individuals to learn how to experience the love story they have wanted. With a philosophy that love is an "ability" that can be improved, she travels the world to counsel singles and couples on what it takes to keep a relationship lasting and deep.
Her popular Love Seminar will be coming to Los Angeles at the Hilton Hotel in San Gabriel city on March 21st Saturday.
A statement that Chen has heard over and over again from men and women who were unhappy in their relationships has been "if only my partner can change for me..." or "if only I can find the right partner..."
"Many singles think that their biggest problem is not being able to meet the right person. But the more precise reason is they don't even know who the right person is." said Chen, "They know what kind of person they like or dislike. However, this is no measurement of whether the person they like is right for them."
"Many men and women entered into marriage with the idea that they could change the behavior of their partner." Chen added, "That's wrongful thinking and the relationship often ends up in disaster."
She encouraged singles to not spend time and money and energy to go around dating but to look for someone who seriously want to enter marriage.
According to Chen, a marriage is not about what another person could give to self but a chance for self to learn how to give to another.
Believing that most individuals do want a loving relationship, Chen started lecturing and writing books about the subject. As a bestselling author, she has written 25 books and her book "The Matchmaker of the Century" and "Hellen Chen's Love Seminar" became number one bestsellers in relationship books at Barnes and Noble.
Chen's works in family, marriage and personal developments are featured in over 200 media publications in 20 countries. She has been a frequent guest on independent and network radio and TV shows on FOX, CBS, NBC and ABC etc.
To help singles and couples develop the ability to love, Chen has released a whole series of love workshops in Asia and in America.
This upcoming event "Hellen Chen's Love Seminar" on Saturday March 21 at Hilton Hotel in San Gabriel city is the 11th workshop Chen will be conducting in Los Angeles.
For more information about the workshop, please contact 800-912-0510 or visit http://HellenChen.com