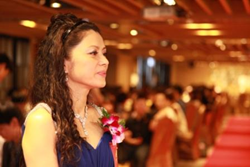 When people don't know how to resolve a problem, and the problem becomes overwhelming, people tend to choose separation.
Los Angeles, CA (PRWEB) March 12, 2015
Having written 25 books on the subject of relationships and personal improvement, bestselling author and matchmaker extraordinaire Hellen Chen continues to get out her message on how to experience a "happily ever after" relationship through her international lectures. Her work has been published in over 200 media publications in over 20 countries.
Chen will be arriving in Los Angeles on March 21st to deliver a seminar on love.
Data from more than 200 countries collected by the Statistics Division of the U.N. revealed that the U.S. ranked fifth among the countries with the highest divorce rates in the world.
A recent study by the Center for Disease Control and Prevention (CDC) revealed that the balance between new marriages and divorces was at a ratio of 2:1; for every two new marriages that took place, there was an ongoing divorce.
According to Chen, one top reason is that there is an inadequate "relationship training."
"There are classes for almost anything – science, technology and even the study of human behavior, but how many men or women have been taught how to fulfill the role of a husband or wife?" Chen said at a recent iHeart radio interview.
"We are more knowledgeable about our smart phones than how to play our roles well in a relationship," she added.
Chen explained in a recent interview why modern dating is stopping men and women from reaching their relationship goal, "90% of dating ends in breakups. Most singles learn the negative lessons of what do not work and yet they don't know what works. They tend to believe having a lasting relationship is all about having a right person. Yet many people do not even know what a right partner is. "
Divorce rates in the US and around the world has gone steadily up compared up to what it was 30 years ago. Does that mean modern couples are taking their marriage vows less seriously?
"Not really. I think people are serious and doing their best to keep the relationship," said Chen, "But when they don't know how to resolve a problem, and the problem becomes overwhelming, people tend to choose separation."
Chen mentioned that 80% of divorces can actually be salvaged provided the couples have learned basic marriage and relationship training.
To assist more individuals and couples to "make it" in their relationships, Chen diligently travels the world to deliver her "love seminar."
The matchmaker extraordinaire will be conducting the "Hellen Chen's Love Seminar" in Los Angeles on March 21st at the Hilton Hotel .
For more information on Hellen Chen's Love seminar, please call 800-912-0510 or visit http://consultanthellenchen.com/hellen-chens-love-seminar-la/