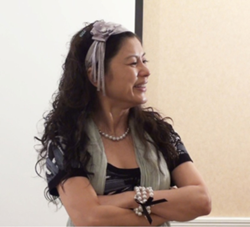 When they know how to 'fall in love' with their spouse over and over again, it is an interesting phenomenon that their career and business improve too!
Los Angeles, CA (PRWEB) March 26, 2014
In March, management consultant Hellen Chen delivered another successful seminar to working professionals in Los Angeles. However, this seminar is not a typical work-related seminar -- it is about the subject of love.
As the CEO of a business management firm, Chen has traveled around the world to train other CEOs and executives in small and large corporations to improve work performances and profitability.
"CEOs are always interested to know 'how can we make more money' and 'how can I get my team to work with more efficiency?' said Chen, who has been a management consultant for 20 years.
"However, I also get asked the question of "how do I get along better with my spouse and children?" Chen commented.
Chen observed that managers and CEOs who know how to create a happy marriage with their spouses often do better in workplace performances than their counterparts who have less skills in household management.
"When they know how to 'fall in love' with their spouse over and over again, it is an interesting phenomenon but their career and business improve too!" explained Chen.
Chen also has a passion which is not typical of corporate CEOs -- she likes to match-make and help solve problems in the area of love and family relations.
While establishing her consulting company, Chen has, on the side, match-made for over 100 single men and women. She has been lovingly called the "Matchmaker of the Century" by the couples she has helped because of tirelessly working with men and women who have been skeptical about marriage and who have not wanted marriage -- Chen has been able to help them tie the knot eventually.
In her company, Chen is well-known for encouraging her staff to get married and have children.
"More and more singles delay marriage because of feeling that they need to get all their ducks in a row first. For example, having to have money first before getting married is one such concern." said Chen, "However, in marriage, 1 plus 1 is more than 2. A family can create more resources together to survive better."
Chen started matchmaking for some of her single staff members and many of them have children now.
"Lo and behold, these staff members who were not able to grasp certain team concepts before are now understanding how to work within a group!" Chen said.
Together with a Taiwan director, Chen has made the first-ever documentary about the topic of love and marriage titled "Let's Fall in Love." This touching and yet humorous documentary was shown in film festivals around the world, including Rotterdam, Taiwan and America. It is also the only documentary of its genre that has been screened non-stop publicly since its debut 5 years ago.
This documentary was shown to staff of private corporations, side by side, with other team-building training programs.
Christine H, an executive from a telecommunication company saw the film at one of the company's training session, said, "We don't see such materials coming across our training programs. But this film really helped me understand how to appreciate another person despite their flaws. I look at the people around me with more understanding."
Having plenty of first-hand observations of how performances of employees improve in a workplace after they have learned about lessons of love, Chen holds "love seminars" in Asia and America to help working professionals understand why learning how to love deeper is just equally as important as learning how to make more money or have a good career.
Chen has also published 22 books on the subject of marriage, family and personal development. Her most recent releases "Hellen Chen's Love Seminar" and "Matchmaker of the Century" become the number one bestselling relationship books on Barnes and Noble.
"Most people do not know that loving another person, just like learning a language or a skill, takes practice and learning to improve at it. The ability gained in the area of love will guarantee a life time of happiness." Chen smiled.
Having just completed a love seminar in Los Angeles this month, Chen will be heading to Asia for the next event. The Taipei Love Seminar will be held on April 26th and the Singapore Love Seminar will be held on June 21st. For more details, visit http://MatchmakerOfTheCentury.com