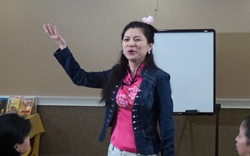 If you long for love but find yourself putting little effort into it, then it's definitely time for you to re-evaluate your priorities
Los Angeles CA (PRWEB) December 09, 2014
Hellen Chen is the renowned relationship and marriage expert that will be hosting a Love Workshop in Los Angeles on December 27. She will be teaching working professionals how to balance work and love matters in order to make the most of their lives.
The seminar is designed for singles looking for compatible mates, as well as divorcees that would like to step back into married life. Hellen is also inviting married men and women who despite enjoying successful careers are not experiencing the same level of success at home.
"We tend to spend many hours at work, but if you really think about it, would you regret not having worked more hours if you found yourself in the last moments of your life?" said Chen at a previous workshop.
According to Chen, because of the increasing emphasis on academic achievement and making money, young adults today are not well equipped to handle and nurture relationships.
Jean, a working executive whose marriage ended in divorce after six years, admitted that being a typical workaholic, she did not put the same amount of effort in her marriage that she did in her work.
"I never thought twice about spending endless hours at work, and as a result, I simply did not take the time to take care of my spouse," she confessed.
"Hellen's workshop changed my perspective drastically; a light bulb seemed to have been turned on in my head," she added with a smile.
Chen also discussed infidelity and why most couples are unable to handle it. Even when the marriage can be salvaged, most people decide to give it up.
Jenny found the lesson on infidelity to be the most valuable in her married life as it saved her marriage. A mother of three, she has been married for 20 years.
"After finding out that my husband got involved in an affair, I would cry my eyes out and think how unfair it was that it happened to me at 50 years of age," she recalled.
After hearing about Chen's workshop, Jenny decided that it would be her last resort in trying to salvage her marriage – otherwise, she would just let go.
By the end of the workshop, Jenny was completely surprised at the discovery she made.
"Our marriage was experiencing serious problems for a long time – way before the affair – but I chose to ignore them because I was busy working," Jenny revealed.
"But what really surprised me is that as I ignored our problems, I was slowly brushing away my own interests and refusing to learn, which ultimately caused me to be unhappy with myself," she said.
As a result, Jenny decided that the most important step to saving her marriage was to improve herself first.
"Many working professionals pour lots of energy into their work, but there's no reason not to excel in your career as well as your relationships," Chen maintains.
"It boils down to whether you are following your own goals or those of others. If you long for love but find yourself putting little effort into it, then it's definitely time for you to re-evaluate your priorities," Chen said.
Chen's new Love Seminar event will be held on December 27 in Los Angeles. More information can be found at http://HellenChen.com