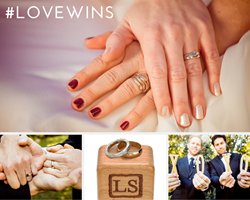 Here at LS, equal marriage and same-sex love has never been a question; we can see that same-sex marriage will be one of those historic moments that we look back on and wonder how on earth could there ever be another way?
Los Angeles, CA (PRWEB) June 26, 2015
Renowned Los Angeles based Jewelry designer Liza Shtromberg is celebrating the 15th anniversary of her store in Los Feliz alongside Friday's historic Supreme Court ruling establishing the legality of same-sex marriage in all 50 states. A known advocate for equal rights in the LGBT community, Liza Shtromberg has been the premier destination for custom designed wedding jewelry for over a decade.
As a way to promote "inclusivity," Liza is launching a series of events, from relationship workshops to events celebrating the LGBTQ community. One of Liza's upcoming LGBTQ events is the jovial "Ladies Night" where women are invited to indulge, featuring hors dourves, cocktails, henna tattoos and of course, jewelry specials. The event will take place on July 9th starting from 6 pm at the Los Feliz Storefront located on 2120 Hillhurst Ave.
When asked about her successful career as a jewelry designer, Shtromberg describes maintaining creative personal ethics as the foundation for her success. She is passionate about her ideals and marriage equality is at the forefront of the causes she supports. "By far what I love most is working with the uniqueness of each client. Creating jewelry for someone, especially custom made wedding or engagement jewelry, is such an intimate process", explains Shtromberg. "Today, more and more people want something different, or non-traditional. I love being able to give someone something totally unique. One example of this is working with the LGBTQ community on unique custom engagement and wedding rings. I love the opportunity to really get creative and outside the box with my jewelry design, while celebrating the love between two people."
Liza Shtromberg Jewelry can be found online, with two physical locations that serve Greater Los Angeles, Hollywood, and Beverly Hills for custom wedding rings, engagement rings, custom jewelry needs. Liza has designed handmade sterling silver, gold and platinum jewelry with an array of precious and semiprecious gemstones for the past twenty years. Her designs are a personal favorite of Gossip Girl's Blake Lively and have been featured in Allure Magazine, Fashion Magazine, Vogue, amongst others.
In addition to the brand's store hours, Liza Shtromberg Jewelry is accepts one-on-one appointments to discuss custom design needs and fittings. Appointments may be made by calling (323) 913-1444
Be sure to follow all Liza Shtromberg Jewelry social media for exciting contests and giveaways.