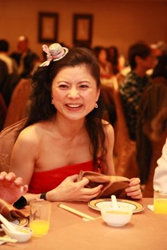 Make sure you have spent enough quality time with your wife before and after you watch TV.
(PRWEB) February 26, 2014
During a recent interview with Brian McKenna and Jeff Burton on radio station 590 The Man, Marriage Expert and Matchmaker Extraordinaire Hellen Chen answered some of the common unresolved problems that married and dating men face in their relationships.
A listener asked why women are happy to dig up the past to push their partner's buttons, but then get very upset and even go as far as withholding sex when they are criticized about their weight. Chen responded by saying that when men stop complimenting their wives and making them feel appreciated after they are married, this has a negative effect on women.
Chen believes that one of the biggest mistakes that men make in relationships is to put women on a pedestal when they are dating but yet they are not unable to keep this up in marriage and the women are left disappointed, feeling that their men no longer love them.
"This is also the illusion created by dating." said Chen, who is known as the "Matchmaker of the Century" having helped over 100 men and women who have had trouble to get married to tie the knot.
"In dating, men and women try to fawn over each other and yet this is just a temporary condition. It won't last forever." She added, "The real test is after marriage."
Chen has also written 22 books on the subject. Her latest book "Hellen Chen's Love Seminar" became the #1 bestseller marriage and dating book on Barnes and Noble after its release.
Another issue that the listeners brought up was that women get very upset when their partners want to spend time doing things that don't involve them. For instance, one man would watch sports five nights a week because he enjoyed it, but his wife would be so upset that she would not talk to him.
"It's OK for men to enjoy activities that don't involve their wives, but it is also important for every man to spend quality time with his wife," Chen answered. "Make sure you have spent enough quality time with your wife before and after you watch TV."
She also insisted that other activities should not lessen the quality of the time men spend with their wives.
"When you watch your sports all evening and then claim to be too tired to have a conversation with your wife, you are really asking for trouble because your wife will start to feel neglected when she should be a priority in your life."
However, she advised men to be open and honest with their wives when engaging in any activities, because once they were practiced secretively, it would ultimately create problems in the relationship and possibly lead to fights.
"Every couple has to find its balance, "she said. "You need to understand the person you are with, their preferences and what you need to adjust in your own life to make the relationship work."
Chen's marriage principles have been showcased on over 200 media publications in 19 countries. She travels around the world to deliver love seminars to singles and married couples.
"A happy marriage is not based on luck or money or how big of a house you have or how good looking the couple is. It is literally based on how much of a 'relationship training' you have." said Chen.
Chen is bringing her relationship training - Hellen Chen's Love Seminar -- to Los Angeles. Visit http://MatchmakerOfTheCentury.com for more information.