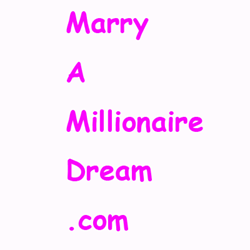 (PRWEB) September 07, 2015
So many dating sites, where to find the ideal match conveniently for successful, beautiful, or attractive singles? MarryAMillionaireDream.com has been launched to help well educated or quality singles find each other.
Marry A Millionaire Dream states most members on the site are rich, gorgeous, well educated, or attractive.
VIP members include entrepreneurs, CEOs, pro athletes, doctors, lawyers, investors, beauty queens, fitness models, Hollywood celebrities, scientists, managers, professionals, and more.
The "marry a millionaire" site has set up the pages at Facebook , Google plus, Instagram, and other social sites. Matt, the webmaster, hopes more people can find the site from different portals.
It has been doing a valuable job connecting gorgeous singles.
The following are some stories posted on the homepage.
"I'd like to tell thanks to this website and thanks people who opened this website. On this site I met a very good man to whom I tried to find in last 7 years. THANK YOU! :) Omankovska"
"Hi there! My name is Renee. I met the man of my dreams through your site. We are now getting married in April....We're going to try to get a good picture together and put together a success story for your site. Thank you!!!!!!!!!! Renee"
"I made some wonderful connections of high quality people - not all potential partners. Yet all that I connected with were open, honest and searching. I'm currently seeing one lady I met on here. So far it's all very good and we both feel there's very solid potential. She winked. I wrote. She wrote and we talked. We met and we sensed the chemistry would be there and it is. Thank you and if this doesn't work - I'll be back. DuffyMac"
Lewis, the leader of MarryAMillionaireDream.com, said many successful women and men would like to meet other successful or attractive people.
MarryAMillionaireDream.com supplies the platform for them to find ideal lovers conveniently.
To protect users' privacy, Lewis discloses members can set up private albums and only show photos to favorite members or those who meet the requirements.
Members can search verified members and certified millionaires on the site. Members can verify occupation, education, and age. Others can search out members by keywords. The feature of Members' Luxuries is popular on the two sites. Successful people can share their luxuries with other members. Members can also know each other by common interests before connecting.
MarryAMillionaireDream.com created more pages of "How to marry a millionaire", "Single millionaires", and "Millionaire online".
The following are some tips published on the page of "How to marry a millionaire":
How a first date turns out is really important and there are a few tips on how to make it great.
1. Always have a back up plan because no matter how many times you confirm plans, things might just pop up to scuttle them, so just in case it pays to have a plan B.
2. No matter how well you think you'll get along, a first date can change everything. Try keeping your first date to no more than one or two hours. Them if things are going really well, you can always extend the date.
3. There is nothing worse than sitting waiting for a first date to show up or merely running a bit behind. So just save everyone the extra stress by being on time.
4. Do not forget to compliment that special thing about your date but don't over do it to avoid appearing desperate.
...
To know more about the site and read more tips and stories, please visit http://www.MarryAMillionaireDream.com