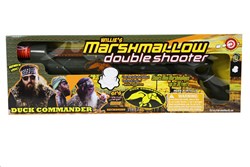 We are licensed to quack.
Dallas, TX (PRWEB) November 26, 2013
This holiday season, marshmallow shooters are getting a makeover courtesy of the bearded backwoods icons that brought you Duck Dynasty. Duck Commander, the Robertson family-owned Louisiana business responsible for AE's hit reality show Duck Dynasty, has granted Dallas-based Marshmallow Fun Co. one of its highly desired licensing agreements.
"We are licensed to quack," said Johnny de la Valdene, Co-founder of Marshmallow Fun Company.
The resulting products are very much in line with the spirit of the Robertson family legacy. Ranging from Phil's pump-action Marshmallow Blaster to Si's Marshmallow Mini-Bow, they provide the young and young-at-heart with a fun experience that everyone can enjoy. Of course, each of the Marshmallow weapons comes replete with a target fashioned after Si's legendary tea cups, as well.
While Marshmallow Fun Company's entire line of marshmallow shooters have been family favorites for over 8 years, the partnership with Duck Commander provided a branding alignment that made perfect sense to all involved. Grant Taylor, general manager to both of the Robertson family businesses and hunting friend of Marshmallow Fun co-founder Beaver Raymond, found the "fun at all ages" aspect of the toys particularly relevant.
"That's just like our show. People of all ages watch it. Both are about good, harmless fun," Taylor said. "The fun and lighthearted aspects go hand in hand."
Marshmallow Fun Company's Duck Commander products made it to retailers just in time for holiday shopping and are poised to be one of the best Duck Dynasty gifts on the market. Duck Commander products are already available for purchase through major national retailers, including Toys "R" Us, Cabellas, Academy Sports and Outdoors, and Bass Pro Shop. They can also be ordered online using Amazon or the Marshmallow Fun website.
Marshmallow Fun Company is continuing to rise to new levels with each new product. The award winning Marshmallow Shooters that shoot up to 30ft have been seen on Ellen, Parks and Recreation, Good Morning America, Hannah Montana, Jay Leno and Jimmy Fallon. They currently have private label licensing with Dylan's Candy Bar, Its Sugar and FAO Schwartz.