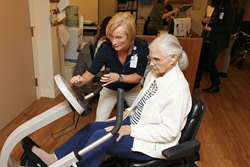 These awards are affirmation of our team's ability to deliver compassionate care with excellent results. It definitely means the most when it comes directly from the people we've served."
Poulsbo, WA (PRWEB) March 08, 2015
Martha & Mary Health and Rehab Center, a post-acute and long term care provider, located in Poulsbo, is the recipient of three 2015 Pinnacle Quality Insight Customer Experience Awards. Qualifying in the areas of "Individual Needs," "Treatment with Dignity" and "Professional Therapy Services," Martha & Mary demonstrates a continued dedication to providing "Best in Class" senior healthcare and services to the region.
In describing the honor, Holly Shepherd, Administrator, said, "These awards are affirmation of our team's ability to deliver compassionate care with excellent results. It definitely means the most when it comes directly from the people we've served."
Every month, Martha & Mary uses the real-time results provided by Pinnacle in order to gain a better understanding of the needs of their short-stay clients. By qualifying for the Pinnacle Customer Experience Awards, Martha & Mary has scored in the top 15% over a 12-month period compared to over 1,800 peer organizations and 100,000 surveys collected annually. Pinnacle is a customer satisfaction measurement firm with over 18 years of experience in post-acute and long-term healthcare.
Throughout its 124-year history serving the community, Martha & Mary has placed a strong emphasis on ensuring that the individual needs of every patient and resident are met. This is the third year in a row Martha & Mary has received the distinction of "Best in Class" in two or more areas.
For more information;
Contact: Mary Berglind,Director of Communications
Mberglind(at)mmhc(dot)org
360-779-5700