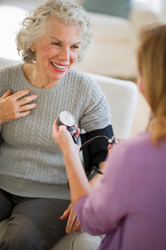 It was if a weight was lifted off my shoulders, trained caregivers assist in the activities of daily living with integrity and compassion.
Poulsbo, Washington (PRWEB) October 05, 2014
Martha & Mary's At Home program has received a "Best of Home Care" award four years running from Home Care Pulse, the top quality management program in the US.
This award places Martha & Mary At Home in the top 25 percent of At Home agencies for both client and employee satisfaction. The At Home care program also received a zero-deficiency survey from the State Department of Health. Of course, none of this is unexpected as Martha & Mary has been a trusted name in Kitsap County for over 100 years.
At Home care is a rapidly growing field as more Americans now require help within their own homes for a variety of reasons. From acute illness to long-term health conditions, permanent disability to joint replacement surgery; At Home care provides assistance to people of all ages who need help with activities of daily living. Whether its fixing a nutritious meal, helping someone to shave, or doing a load of laundry, these services allow individuals to remain independent and in the comfort of their own home.
Martha & Mary is a non-profit, non-franchise that provides long-term care, At Home care, rehabilitation, and other services on the Kitsap and Olympic Peninsulas and surrounding areas. Known for its strong sense of community, Martha & Mary offers programs that serve its neighbors from infancy until end of life. By providing a continuum of care, Martha & Mary helps provide a smooth transition from home to facility, be it hospital or inpatient. Its rehab care includes stroke recovery, cardiac recovery, pulmonary, orthopedic, neurological, post-surgical, complex pain management, wound care, Hospice, and patient/family education.
Martha & Mary At Home provides exceptional in-home care to seniors and adults, helping them remain independent in the comfort and security of their own homes. Often, the clients aren't what we think; they might be recovering from surgery and need at-home help during recovery, or they may no longer be physically able to perform daily tasks. Trained caregivers assist in the activities of daily living with integrity and compassion. These professionals create care plans for those who need a little help, and those who need round-the-clock care. They work with each person to determine what works. They lend a helping hand and a caring heart, giving everyone peace of mind.
Americans are, on average, living longer lives. Medical science and increasingly healthy lifestyles are helping people to stay stronger, longer. But living longer may also mean struggling with diseases and disorders. The stress of trying to do what many of us take for granted—getting dressed, tying a shoelace, climbing in and out of a bathtub—take a toll. With the right help, people can stay independent longer, postponing the need for inpatient care.
A generation ago, families moved aging parents into their own homes and struggled with the extra burden that placed on each member. It was that or a nursing home—with no stopgap in between. Today, we have choices, and in Kitsap County, the choice is an easy one. Martha & Mary At Home.
Martha & Mary has been the trusted name in quality medical care for decades, caring for the community in all stages of life.
For more information contact:
The RockFish Group
Kelle Kitchel-Cooper @ Kelle(at)RockFishGroup(dot)com
(360) 930-9892