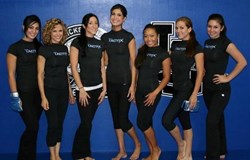 (PRWEB) October 18, 2013
Why have martial arts been so popular for so long with so many varieties and success stories? It's simple: Martial artists are strong, flexible, powerful, agile and focused. Bringing all of that together with an easy-to-implement business system, TACTIX combines the best of martial arts fitness, practical self-defense skills, boot camp intensity, strength training and metabolic conditioning to help personal trainers, group fitness instructors and martial artists develop and launch a successful business.
Even better, the entire TACTIX program can be completed online at http://www.tactixmethod.com/. Unlike many previous martial arts programs, TACTIX isn't hard to learn, expensive to implement or unable to create a new revenue stream; rather, it addresses all the issues of many former programs with a powerful business system.
"From the Karate Kid to mixed martial arts, and from martial arts legends to kids taking their first judo class, martial arts is here to stay," said John Spencer Ellis, fitness and personal development guru and creator of TACTIX. "Since many previous martial arts programs were a challenge to implement successfully, I wanted to create something that was effective and easy to launch. TACTIX is all about function, form, fun and profit."
The online TACTIX program includes video demonstrations, step-by-step blueprints for building a successful fitness business, a workout generator and more. This unique fitness business system offers martial arts fitness without any contact or sparring, making it safer, simpler and easier to implement than many previous martial arts programs. In addition, there are no franchising or licensing fees.
The fun workouts can be taught indoors or outdoors, one-on-one, in small groups or large groups, and they utilize the latest research in metabolic conditioning to burn more calories in the shortest amount of time. TACTIX teaches real-world self-defense skills without the risk of actual combat or negative overtone of some martial arts classes.
"There has been consistently huge growth in martial arts and martial arts-based fitness around the globe. Most consumers are seeking a martial arts workout without being injured, or having actual combat. If you've been searching for a program like this, as well as one that can make you a lot of money, TACTIX is your solution," Ellis added.
About John Spencer Ellis Enterprises
John Spencer Ellis Enterprises is a solutions provider for fitness and coaching professionals around the world, providing education, turn-key business programs, coaching and resources for new and advanced fitness and coaching professionals. For more information about John Spencer Ellis Enterprises or TACTIX, please visit http://www.tactixmethod.com/.