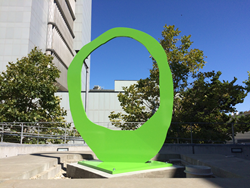 …This exceptional sculpture will greet thousands of men, women and children as they enter Family Court - not a place most people choose to go. ...'Nature of Life' as they enter the courthouse will help slow things down a bit for them....' - Josanna Berkow
Martinez, CA (PRWEB) July 17, 2015
The elegant, bright chartreuse site-specific sculpture entitled 'The Nature of Life' was designed with the site and mission of this facility in mind. Huether's intent was to activate the space and to create a sculpture that inspires a sense of completion and reflection, inviting visitors to overcome struggles and move forward with their lives. It suggests a sense of wholeness.
Josanna Berkow, retired Contra Costa County Superior Court Commissioner, is the founder of the AIC Committee established in 2002. With the dogged determination of Attorneys Paul Bonnar and Christine Callahan coupled with ongoing strong support of the county's bench and bar and many regional artists, AIC maintains five galleries of fine art in court facilities throughout the county and views the purchase of the Huether piece as the crown of its permanent collection. Berkow states, "This exceptional sculpture will greet thousands of men, women and children as they enter Family Court - not a place most people choose to go. The experience can be stressful and upsetting. For families in crisis, it can be downright frightening. We hope that experiencing 'The Nature of Life' as they enter the courthouse will help slow things down a bit for them, reduce the level of angst and anger, and provide an opportunity to become a bit more reflective and less distressed as they begin their journey."
'The Nature of Life' sculpture is an irregular oval with an open center, standing 6 feet in height from its base. The piece is made of half inch, solid, water-jet cut sheet aluminum, which was then powder coated with a chartreuse color. The oval is 54 inches in width. Once installed in its final location, the surrounding area of this new sculpture will receive bespoke landscaping, complementing the artwork with darker green tones of Jasmine foliage and its white, delicate flowers.
In an effort to shake common perceptions of courthouses as sterile, impersonal, institutional environments, this Gordon Huether sculpture is a significant addition to the Martinez, CA 'Arts in the Courthouse' collection and lends itself perfectly to the center's contemporary architecture.
Programs and art collections similar to the Martinez Family Law Center's 'Arts In the Courthouse' are still a niche. However, as specified in an article from the San Francisco Chronicle with the headline 'Art for people's sake…,' courthouse art collections have without a doubt a positive effect on courthouse visitors.
Other examples of courthouse art programs are the 'New Castle County Courthouse Art' program in Delaware, the Stanley Mosk Courthouse County Collection, in Downtown Los Angeles, CA or the 'Art in the Bernalillo County Metropolitan Courthouse' program in Albuquerque, NM.
About Gordon Huether Studio
Gordon Huether has mastered the challenge of creating art in a multitude of environments and mediums. The scale of his work ranges from large architectural installations for public commissions to small intimate works of art for private collections and residences.
Since founding Gordon Huether Studio in Napa, California in 1987, Huether has worked extensively with glass on a large scale and has also created works incorporating salvaged materials, bronze, aluminum, steel, light, water and neon. All work is fabricated at Gordon Huether Studio by artisans who are internationally recognized for their creativity, technical ability and craftsmanship.
Huether's talent for intuitively reacting to the materials and the space they occupy, whether indoors or out, has led to the successful completion of over 60 public art projects and more than 160 private art commissions.
In 2009, Huether was the recipient of several awards, including the Americans for the Arts Public Art Network (PAN) Best Public Artwork in the US Award for the "Gotta Go" art installation at the Jacksonville International Airport.
For more information, please visit http://www.gordonhuether.com.