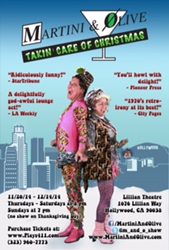 LA Weekly raved: "I can't remember when I saw such a delightfully god-awful lounge act!"
Hollywood, CA (PRWEB) November 15, 2014
The world famous Martini and Olive are finally making their Los Angeles debut with "Martini & Olive's Takin' Care of Christmas" - an original musical comedy by Judy Heneghan, Grant Richey, and Peter Staloch. Martini & Olive's Takin' Care of Christmas" opens November 20th at the Lillian Theatre in Hollywood. The theater is located at 1076 Lillian Way LA, CA 90038.
The musical stars Judy Heneghan as Olive and Michael Halpin (in Los Angeles) and Jack Stahlmann (in Minnesota) as Martini with Peter Staloch (Vince), Lori Quinn, Steve Alden, Bill Bliesath, Norman DeGroot, and Mark Povinelli. The show also promises to feature many special guests.
"Martini & Olive's: Takin' Care of Christmas" includes enough old chestnuts and classics to easily put the "no" back in "nostalgia." Favorites such as "Convoy," "MacArthur Park," "Popcorn," and "The Wreck of the M&O" will have audience members tapping their mistletoes to the group's musical mischief in this hysterical interactive show that runs a brief 80 minutes without an intermission.
Following the show, audience members are invited to join the cast at the bar for a celebratory toast. Martini and Olive promise an affordable "Fun-do" of festive frolic that will make "toe-socks sizzle."
Martini & Olive's special holiday celebration includes medleys, songs, dances and snap happy banter that are guaranteed to give a "funkdified flu shot" that's sure to prevent that pesky ole Humbug.
HISTORY OF THE SHOW:
Martini and Olive are a satirical 70s lounge show that sings and dances their way through some of the "best and worst" ever written. They are celebrating their 20th year of entertaining audiences with song medleys, flashy costumes, and the Amazingly Adequate (TM) Swizzle Stick dancers.
All the while "cavorting" in polyester costume "so tacky" they should be "illegal," they hoof through gloriously "groan producing" choreography. Martini & Olive have made countless audiences howl with delight by being very, very good at being very bad.
They put on a "hilarious" energetic show that has earned "rave" reviews to "sold" audiences.
In 1992, Martini and Olive started out with just a single medley and a set of polyester clothing before morphing into a full-blown extravaganza. They acquired along the way those "amazingly adequate" Swizzle Stick Dancers, "Vince," their manager, and their lovable Security Team and made their way from Minneapolis to NYC to Seattle to Orlando and finally to Hollywood in 2014.
Here's what critics have said along the way:
LA Weekly raved, "I can't remember when I saw such a delightfully god-awful lounge act!"
"This Duo of Disco's latest madcap variety show is so tasteless, so completely schlocky, that it can't help but be thoroughly entertaining. Martini & Olive put a whole new twist on the holidays." - The Pulse.
"Ridiculously funny!" – StarTribune.
"You'll howl with delight!" - Pioneer Press.
"Wonderfully talented, they make it hurt so good!" - City Pages.
SHOW TIMES:
Thursday, November 20 at 8pm
Friday, November 21 at 8pm
Saturday, November 22 at 8pm
Sunday, November 23 at 7pm
Friday, November 28 at 8pm
Saturday, November 29 at 8pm
Sunday, November 30 at 7pm
Thursday, December 4 at 8pm
Friday, December 5 at 8pm
Saturday, December 6 at 8pm
Sunday, December 7 at 7pm
Thursday, December 11 at 8pm
Friday, December 12 at 8pm
Saturday, December 13 at 8pm
Sunday, December 14 at 7pm
Tickets are $25: (but great discounts can be found online) @Goldstar/@Plays411+ industry comps via John Downey III
Or call our Lillian Theater Box Office (323) 960-7773.