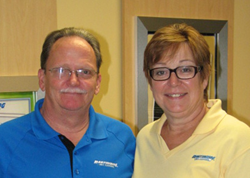 Milford, OH (PRWEB) September 04, 2014
Martinizing Dry Cleaning announces new ownership of the stores in Ankeny and Johnston, IA. Virgil and Karen Hochstetler are now the owners/operators of the stores at 207 NE Delaware (Ankeny, IA) and 8805 Chambery Boulevard (Johnston, IA). These stores have been serving their respective communities for the past ten (10) years.
The Hochstetlers are not new comers to the garment care business. They also own two (2) laundromats and other local businesses. From Martinizing headquarters in Milford, OH, President Kevin Kaeding welcomes the Hochstetlers: "We are very excited to welcome the Hochstetlers into the Martinizing family, and we are looking forward to the success they will have in continuing to provide the Ankeny and Johnston (IA) communities with unmatched garment cleaning and care. Their previous experience in the laundry industry and the connections they have built with so many of the local citizens will really help them as they further endear themselves to the local community."
The Hochstetlers join the Martinizing family of franchisees representing over 400 Martinizing stores worldwide. Martinizing is celebrating over 65 years as the most recognized name in dry cleaning.
About Martinizing Dry Cleaning
Celebrating its 65th year as the most experienced garment care provider, Martinizing Dry Cleaning has more than 400 stores worldwide including: U.S., Canada, Ecuador, Peru, Indonesia, Hong Kong, and Japan. New stores feature cutting edge customer convenience and "Green" cleaning technologies that are safe for people, clothes, and the environment. Entrepreneur Magazine continues to rank Martinizing as the top dry cleaning franchise. For more information, please visit http://www.martinizingfranchise.com
For more information about the Martinizing business opportunity, please contact:
Terry McGee
Director of Development
(800) 827-0207
Direct: (513) 699-4242
tmcgee(at)martinizing(dot)com
http://www.martinizingfranchise.com