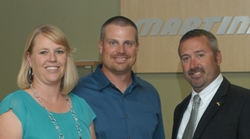 Milford, OH (PRWEB) June 23, 2014
Speaking from Corporate Headquarters in Milford, Mr. Kaeding said, "We look forward to our partnership and are excited about Melissa and Travis expanding the Martinizing brand into a new market where they will have the opportunity to create new jobs and endear themselves to the local community."
Melissa and Travis bring with them a broad range of business experience from numerous fields. The Johnsons are currently serving the Farmington area in the real estate appraisal industry, and look forward to having their own Martinizing business serving their community.
The Johnson family (including their Golden Retriever, Sadie) loves all the outdoor activities in the Farmington area. Travis was recently quoted as saying, "We are very blessed with great family and friends, and love calling this (Farmington) home."
About Martinizing Dry Cleaning:
Celebrating its 65th year as the most experienced garment care provider, Martinizing Dry Cleaning has more than 400 stores worldwide, including U.S., Canada, Ecuador, Peru, Indonesia, Hong Kong, and Japan. New stores feature cutting-edge customer convenience and "Green" cleaning technologies that are safe for people, clothes, and the environment. Entrepreneur Magazine continues to rank Martinizing as the top dry cleaning franchise. For more information, please visit http://www.martinizingfranchise.com.
For more information about the Martinizing business opportunity, please contact:
Terry McGee
Director of Development
(800) 827-0207
Direct: (513) 699-4242
tmcgee(at)martinizing(dot)com