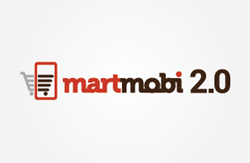 MartMobi merchants did exceedingly well this holiday season, we expect our new platform to boost their sales even further.
San Jose,CA (PRWEB) January 21, 2015
MartMobi, a rapidly growing mobile commerce platform, today announced the release of its next generation platform that helps online retailers increase their mobile sales dramatically. Already one of the highest ranked platforms on shopping carts such as Shopify and Yahoo, the company is today the gateway to more than 1.6 billion mobile shoppers for online merchants across the world.
Key highlights of the new platform:

Automatically generates mobile and tablet websites as well as apps for iPhone, iPad, Android smartphones and tablets saving online merchants more than $90,000 in development costs
Conversion-driven templates that optimize every pixel of the site to drive more sales
Increases engagement and repeat purchases with push notifications and other marketing tools
Works seamlessly with SaaS shopping carts such as Shopify, Volusion, 3dcart, Yahoo and BigCommerce, as well as hosted shopping carts such as Magento, WooCommerce and PrestaShop
Robust and intuitive platform that requires no coding skills
This past holiday season merchants got about 61% of their traffic from mobile devices. Further, a large portion of desktop and offline sales have been attributed to mobile. Effectus Clothing is an apparel brand from New York which adopted mobile ahead of the holiday season. Its CEO Brian Danesi says, "We were forced to get mobile-friendly by our customers, because that is where they shop. I am glad we did it before the holiday season because that gave us a huge boost this Christmas."
However, more than 95% of online retailers are not optimized for mobile and have lost billions of dollars during the holiday season because of poor mobile offerings. Responsive web design is one of the biggest culprits in this loss because of its inherent long page load times that displease mobile shoppers even before they visit the website. Merchants who were affected with poor mobile conversion have quickly realized the importance of mobile optimized sites and, like Brian, are now adopting mobile commerce solutions such as MartMobi.
"Mobile sites and native apps are faster today than a year ago. For instance, mobile stores powered by MartMobi load about 64% faster than normal stores. This is the biggest difference between mobile shopping in the holidays of 2013 versus 2014. Faster sites lead to better experiences and better sales. Our customers have done exceedingly well this past holiday season and their references are giving us rapid growth already this year," says Satya Krishna Ganni, Founder and CEO of MartMobi.
About MartMobi
MartMobi (http://www.martmobi.com) believes that mobile is the present, not the future. The SaaS mobile Commerce platform helps online retailers go mobile seamlessly in less than a day and dramatically boost their conversions. Merchants from 24 countries use mobile storefronts powered by MartMobi. Headquartered in San Jose, CA, MartMobi is one of the fastest growing mobile commerce and shopping cart platforms.
To read more on how MartMobi impacts online merchants visit martmobi.com and check out some case studies - http://www.martmobi.com/case-studies