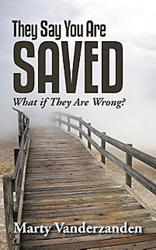 MINNETONKA, Minn. (PRWEB) January 27, 2015
Author Marty Vanderzanden was not comfortable with the belief that someone would have eternal salvation because they said a prayer or completed some other one-time event. The Holy Spirit opened the eyes of Vanderzanden to see what the bible says about eternal salvation versus what is taught in many Christian churches.
Vanderzanden's new book, "They Say You Are Saved: What if They Are Wrong?" (published by CrossBooks), candidly discusses the topic of salvation, what it means to believe, grace versus works and how to cultivate a deep relationship with Jesus.
Written in a relatable and conversational tone, "They Say You Are Saved" includes a series of short stories and lessons inspired by God that explain what Jesus requires of those who believe they are one of his followers.
One evening, while praying in a church, Vanderzanden says he had a divine encounter with God, who asked Vanderzanden two questions: 1) If he believed what is written in the bible and 2) When is he going to start living as if he believed? From then on, Vanderzanden sought to turn his life around. Through deep prayer and a change in attitude, he found new meaning and relevance in his life and walk with Jesus.
Through his book, Vanderzanden aims to help Christians take their faith one step further and develop a deep and meaningful relationship with Jesus. He hopes his book will aid others in this process.
"They Say You Are Saved"
By Marty Vanderzanden
Softcover | 5 x 8 in | 138 pages | ISBN 9781462755677
E-Book | 138 pages | ISBN 9781462755660
Available at Amazon and Barnes & Noble
About the Author
Marty Vanderzanden lives with his family in Minnetonka, Minnesota. More information can be found at http://www.theysayyouaresaved.com.
About CrossBooks
An imprint of B&H Publishing Group, CrossBooks offers a unique blend of traditional and self publishing. It serves a variety of Christian writers, from established authors to Christian leaders and first-time authors. As a ministry of LifeWay Christian Resources, CrossBooks is committed to unwavering principles of excellence and Christian faith. For additional information, please visit http://www.crossbooks.com.