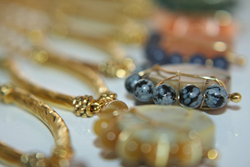 The Crescent Moon Necklace is designed for women with vibrant, confident and intuitive personalities.
Phoenix, Arizona (PRWEB) June 17, 2014
Maru Jewelry Designs (http://www.marujewelrydesigns.etsy.com) will introduce its Crescent Moon Necklace to magazine, newspaper and online editors, top bloggers and TV, radio and online producers at the Consumer Products All-Press Gifting in New York City on June 18, 2014. The necklace will be included in collaborative gift bags prepared by California-based The Artisan Group® especially for the event.
The Crescent Moon Necklace has been selected to help launch the brand's upcoming Harvest Moon Collection, which celebrates the natural beauty and spiritual and symbolic significance of the moon, particularly the Harvest Moon, which is the traditional name for the full moon that occurs closest to the Autumn Equinox.
The necklace is composed of a wire-wrapped pendant that features striking natural gemstone combinations such as Red Aventurine and Blue Jade, Pineapple Jasper and Fluorite and Jade and Rose Quartz. The pendant hangs on an 18" long gold chain and is available with an extender chain that allows the necklace to be longer or shorter as desired. The necklace is thoughtfully packaged in a specially designed burlap pouch.
According to designer/owner Maru DeJesus, the Crescent Moon Necklace represents a fresh new vision for celestial jewelry. She says, "The overall shape of the piece was inspired by the moon's natural beauty, while the colors of the gemstones evoke positive personal characteristics such as creativity, enthusiasm, renewal and peace. This necklace is designed for women with vibrant, confident, intuitive personalities."
The Crescent Moon Necklace retails for $28.00 and is available to purchase at marujewelrydesigns.etsy.com. Additional jewelry designs, including the company's popular keepsake designs, are also available at whosmaru.artfire.com.
Maru is a former licensed cosmetologist and beauty consultant who began designing and creating jewelry to gift to her customers. With the support of her husband Carlos, she founded Maru Jewelry Designs in 2003, in response to the increasing popularity of and demand for her jewelry creations. The brand showcases wire wrapped, hand stamped keepsake jewelry, all handcrafted by Maru herself and is dedicated to helping women feel beautiful, valuable and special.
Maru Jewelry Designs has been showcased by Kathy Cano-Murillo, better known as "The Crafty Chica", in the The Arizona Republic and on local Phoenix news stations.
The company recently gifted its keepsake Emerald Pea Pod Earrings to Sherri Saum of "The Fosters," in celebration of the birth of her twin boys and has sent designs to wardrobe stylists at Days of Our Lives, The Originals, Cedar Cove and The Bold and The Beautiful.
ABOUT MARU JEWELRY DESIGNS
Maru Jewelry Designs (http://www.marujewelrydesigns.etsy.com) is the home for the handcrafted jewelry creations of Maru DeJesus. Maru designs out of her Phoenix, Arizona jewelry studio, surrounded and inspired by the beauty of the Sonoran desert.