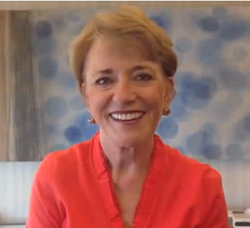 The man who went to prison never could have become president.
Simi Valley, California (PRWEB) February 02, 2014
Mary Morrissey, in one of her recent podcast videos, discusses her last conversation with Nelson Mandela, noted civil rights leader. Morrissey said that she was able to ask Mr. Mandela several questions that she had always wanted to ask the noted leader.
Mary believes that the world has lost one of the most enlightened men to ever exist, and that Nelson Mandela has transcended his human life and proceeded on to the next realm of existence - in spirit. In her video, Mary explains the primary question she asked him. She elaborates on her time with Mandela and how it positively impacted her life forever.
The simplest question Mary Morrissey had for Mr. Mandela was, "How did you do it?" Knowing the challenges faced by Mr. Mandela over his lifetime, including 27 years spent in prison at hard labor and becoming the president of South Africa, Mary was curious to know how Mr. Mandela handled the obstacles and the victories in his path.
Upon being asked this question, Mr. Mandela noted that "the man who went to prison never could have become president." He noted that his younger self was angry and violent, but over the first months of his imprisonment, one thought began to creep in: "Maybe all is not lost."
Mr. Mandela said that he held on to that hope for many years. Through the years that followed, he began to realize that perhaps there was a larger purpose to his imprisonment: the ending of apartheid. Eventually, he began to write letters, and according to Mary Morrissey, "The rest is history."
Morrissey elaborates that when one is aware of the potential of their existence, even in circumstances of hardship and turmoil, as being a part of something much bigger, more important, and powerful, it is important to ask thyself questions like "How would I be in this moment? What action would I take? What would I feel, and what would I think?" Mary goes on to say "I do believe that when we think from the calling for greatness that is within each one us, then great things can happen." She goes on to give praise and thanks to Mandela for his example of leadership, Nobel prize, and walk in life.
Mary Morrissey reminds her listeners that it is just as important to live "in the moment" as to plan for the future. By living in the moment, Nelson Mandela was able to bear the burden of prison and see his tribulations as part of a greater good.
About Mary Morrissey: Working with those who want to realize their full potential, she is a recognized expert in the field of life coach training & certification. Mary has helped thousands of people succeed in jobs, relationships and other aspects of life. She is apeaker, best-selling author, and consultant for over three decades. Morrissey's transformational talks and seminars have made her one of the elite teachers in the human potential movement. She is the president and founder of LifeSOULutions, an international company providing programs and products that transform dreams into reality. Her work takes her weekly to different parts of the globe.
Mary Morrissey's Life Mastery Institute
2945 Townsgate Rd #200
Westlake Village, CA 91361
(866) 405-6999
http://www.marymorrissey.com