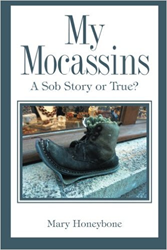 MONMOUTH, Wales (PRWEB) April 25, 2016
Based from her first-hand life experience, Mary Honeybone pens an inspiring and encouraging story that will take readers on one unforgettable journey. The new book, "My Mocassins: A Sob Story or True?" (published by AuthorHouse UK), is a story about growing up in an exclusive home environment and then leaving to make a life and find some meaning in it.
This book centers on a girl who was brought up with very strict rules, but then starts to question just how binding they are. She finds the courage to put them to the test as she goes through believable and unbelievable consequences. She loses everything and everyone in the process. She tries to rebuild her life and gets through, only to repeat the same experience again.
"This book is full of the unexpected as it is filled with twists and ironies," Honeybone says. "It is a very unusual story and covers many human emotions and ethical questions. It tackles issues of human rights, child protection, social services and civil liberty."
"My Mocassins" highlights the plight of a family who was subjected to a regime of fundamentalism. Its stark brutality is a harsh reminder of the issue it presents to family and the level of control imposed on family members. On the other hand, it also shows the courage of the human spirit and the strength of the subject to survive and come through into normal society and function.
"My Mocassins"
By Mary Honeybone
Hardcover | 6 x 9in | 184 pages | ISBN 9781504938167
Softcover | 6 x 9in | 184 pages | ISBN 9781504938174
E-Book | 184 pages | ISBN 9781504938181
Available at Amazon and Barnes & Noble
About the Author
Mary Honeybone has researched a lot about the culture and material presented in her book and she draws readers along the journey with her, showing that whatever they believe can have very significant consequences if those beliefs are imposed on others. She has experienced a lot herself and is an authoritative voice on the subject of the story. Every emotion she takes readers through, she has experienced herself. She hopes that reading this book will inspire and encourage readers on their own journey, whatever it may be.
AuthorHouse UK Ltd., is an Author Solutions, LLC, supported self-publishing services and a leading provider of self-publishing, marketing and bookselling services dedicated to serving authors throughout the United Kingdom. AuthorHouse UK is committed to providing authors the best self-publishing experience through a wide array of products and services designed to help individual authors realise their unique creative vision. AuthorHouse UK consultants provide guidance to authors throughout the self-publishing process. To date, AuthorHouse UK has released more than 6,500 titles. For more information or to begin publishing a book today, visit authorhouse.co.uk or call 0800 1974150 or follow @AuthorHouseUK on Twitter for our latest news and updates.