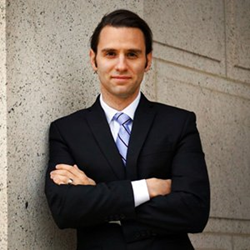 With our growing collection of family law resources, we're looking to provide as much easy to access information as possible.
Bethesda, MD (PRWEB) January 23, 2017
Brandon Bernstein of the Law Offices of Brandon Bernstein is proud to announce that his Bethesda, Maryland family law practice has launched a brand new website, offering prospective and current clients an easier way to get in touch with the firm, learn more about their services, and catch up on the latest news and resources.
"It's all about making ourselves more accessible to new and future clients, so they can easily find us on their computers, smartphones, or wherever and whenever else they may be browsing or looking for information," says Brandon Bernstein, Esq., a 4-time Maryland Super Lawyers Rising Star award winner. Mr. Bernstein has garnered the award for the four previous years, from 2014 to 2017.
The new website, available at BrandonBernsteinLaw.com, is fully responsive and mobile-friendly. This allows it to adapt to any user's platform, and ensures that individuals looking to find out more about the firm can do so whenever, wherever, and however, they choose.
"Further, with our growing collection of family law resources, we're looking to provide as much easy to access information as possible," continues Mr. Bernstein, noting that the firm will continue to release relevant resources and blog postings related to relevant, recent news. "Not only for clients, but for any person who's looking for valuable and hopefully insightful information regarding a question they may have pertaining to divorce, family law, and the many specifics and entanglements they bring to the table."
The new website is easy to navigate and explore, and features popular features such as real customer testimonials, and intuitive access to social media. Additional convenient features for users include click to call functionality, and easily accessible contact forms on each page.
This reduces the time involved and lowers the barrier for any individual to take the first step towards seeking legal assistance, and hopefully beginning on the road towards a positive outcome, whether it's with a Maryland divorce case, separation, child support and custody, or any other family law matter. Mr. Bernstein also offers Maryland divorce mediation services, which many clients find is a potentially less stressful, time-consuming and expensive option.
To view the website and learn more about the practice, visit BrandonBernsteinLaw.com.
About the Law Offices of Brandon Bernstein, LLC
The Law Offices of Brandon Bernstein, LLC is located in downtown Bethesda, and serves clients throughout the state as a divorce attorney in Maryland, covering a broad range of family law matters, and aggressively protecting the best interests of his clients at all times. He has been named a Maryland Rising Star by Super Lawyers for three consecutive years. The core pillars of his practice are Integrity, Experience, and Results. For a free attorney consultation, prospective clients can visit his website at BrandonBernsteinLaw.com, or call the office directly at 240.395.1418.