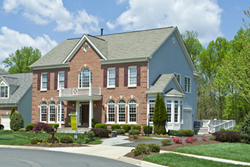 Maryland's HARP application refinance volume has taken a plunge, but with the President's proposed plans of a HARP 3.0 we may see an increase soon.
Baltimore, Maryland (PRWEB) August 15, 2013
HARP Mortgage Lender (http://harpmortgagelender.com), a national network of mortgage professionals who are approved for the Home Affordable Refinance Program, reported that Maryland HARP applications have dropped in the second quarter of 2013 as mortgage rates continue to rise.
The Maryland Home Affordable Refinance Program (HARP) was revised in late 2011 through an agreement initiated by the Obama Administration's #MyRefi plan between the Federal Housing Finance Agency (FHFA), Fannie Mae and Freddie Mac to help severely underwater homeowners refinance into lower rates or better terms without the traditional obstacles of appraised values or other red tape getting in the way.
CLICK HERE to see if your loan is eligible for a HARP Refinance.
According to the most recent Refinance Report published by the Federal Housing Finance Agency (FHFA) on July 25, 2013, the total volume of HARP applications in Maryland dropped from 2,868 in April to 2,247 in May.
The Loan-to-Value (LTV) breakdown for Maryland is as follows:
80% - 105% LTV = 1,306
105% - 125% LTV = 544
Greater than 125% LTV = 397
For the most severely underwater homeowners with LTV ratios above 125% of their appraised values, there were 397 properties refinanced in May vs. 556 in April's report.
"This 150+ swing in total higher LTV Maryland HARP refinances may be due in part to a small jump in HARP interest rates," says Mark Madsen, HARPMortgageLender.com CEO. "However, I anticipate that we will see an increase in the number of HARP Refinances in MD as the remaining underwater homeowners realize that gambling on potential lower rates in the future could cost them thousands in savings over the long-run."
The negative equity share for Maryland based on the findings of CoreLogic (analytics and business services) reported back in June 2013 for the last quarterly report was 22.6 percent out of 1,368,000 properties on top of that; the aggregated collection of units for homes with near negative equity was 4.9 percent. Near negative equity homes can eventually lead to additional underwater mortgages.
RealtyTrac (the leading online marketplace for foreclosure properties and real estate data), a report released its U.S. Foreclosure Market Report for April 30, 2013 Maryland alone showed a result of 8 percent higher than the previous month and 148 percent higher than the same time last year which is poor news along with other not so good news.
The HARP Refi program in Maryland has certainly been the key to opening up a new lower mortgage payment for many homeowners, and it would be no surprise if the refinance volume for HARP shows an increase in the next FHFA analysis report, since the program does not expire until December of 2015.
A recent speech made by President Obama on August 5, 2013 in Mesa, Arizona proposed a set goal by eliminating all barriers to refinancing for borrowers. The Obama Administration has teamed up with housing regulators in the past to exercise a couple of key changes to HARP that resulted in a 300% increase in the amount of families who were able to receive HARP refinancing, increasing from 400,000 in 2011 to 1.1 million in 2012. With nearly 3 million HARP refinances in total through 2013, the President's #MyRefi plan for HARP 3.0 will make the underwater refinance program attainable for more underwater homeowners with the following changes:
-Streamlined Refinance for borrowers with government-insured mortgages.
-A waive on closing costs for borrowers refinancing into a shorter term loan with plans to rebuild equity in their homes.
-Expand on refinancing eligibility to thousands of eligible borrowers who are not committed to government-backed mortgages by establishing special programs through the Federal Housing Administration (FHA) or Fannie Mae and Freddie Mac.
These are steps that can possibly save the average household up to more than $3,000 each year.
About Home Affordable Refinance Program for Maryland:
The Home Affordable Refinance Program is a government initiated program that helps underwater borrowers in Maryland refinance into lower rates or more stable products, regardless of what their home appraises for.
MD HARP 2.0 eligibility guidelines:
1) Fannie Mae or Freddie Mac owns or has guaranteed first loan.
2) Fannie or Freddie purchased the loan prior to May 31, 2009.
3) Borrowers must be current with mortgage payments.
4) Borrowers owe more than their home is worth, or there is minimal equity.
5) All mortgage payments have been prompt in the past 6 months.
6) No sixty (60) day late payments in the last 12 months.
Click HERE to check HARP Eligibility
HARP Mortgage Lender is a nationwide online network of home loan professionals and lending institutions that are authorized to deal in the Obama Administration's revamped versions of the Home Affordable Refinance Program (HARP 2.0 - 3.0). To learn more from a HARP specialist, call toll-free at (888) 883-7396.