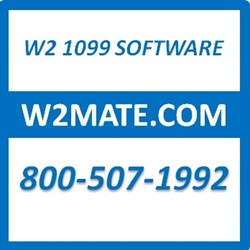 Our W2 Mate software has some of the best W2 1099 software features in the industry. Regardless of your evaluation criteria you will quickly find out that our software ranks up there. See for yourself by downloading a free trial from www.W2Mate.com.
Chicago, IL (PRWEB) December 13, 2013
Real Business Solutions (http://www.W2Mate.com) is pleased to announce the release of their 2013 Maryland W-2 electronic filing module with support for the latest employer wage reporting instructions and specifications as defined by the controller of Maryland. The 2013 / 2014 EFW2 software allows businesses, payroll service providers and tax professionals submit their annual withholding reconciliation using the electronic format to the state Maryland and the Social Security Administration.
Maryland regulations require employers to submit W2 statements using magnetic media format or electronic filing format if the total number of W2 forms meet or exceed 25. W2 Mate software can generate EFW2 electronic files that are ready to upload via b-File, the free online filing option at the Maryland controller website marylandtaxes.com. Free trial download of W2 Mate 2013 is available from http://www.W2Mate.com/. Users can buy the software and receive it instantly.
Although Maryland follows the SSA W2 e-File format, the state has many special requirements that are met by W2 Mate and very few other W-2 electronic filing applications. W2 Mate adds the Maryland Central Registration Number in positions 222-229 of the "RE" record, Employer Identification Number in positions 328-336 of the "RS" record and a date and time stamp in positions 497-512 of the 'RE', 'RS' and 'RV' records.
W2 Mate also adds the "RV" record, which is (the case of Maryland) an electronic version of the paper form, MW508, Annual Employer Reconciliation Return. The RV record contains all of the data from the MW508 and is a required record for using MD W-2 electronic filing or magnetic media. W2 Mate comes with a special interface for populating form MW508, which makes e-Filing easy and smooth.
For 2013 / 2014 tax season the Maryland filing deadline for both W-2 and 1099-R wage and tax statements is Friday February 28, 2014. Employers failing to comply may incur a penalty of $50 for each violation. Each W-2 submitted that is not properly filed is a separate violation subject to the $50 penalty. Employers and payroll departments can use W2 Mate to e-File Maryland W2s by the due date and avoid any penalties.
In addition to Maryland W2 Mate supports e-Filing W2s with the following states: Alabama, Arizona, Arkansas, Colorado, Connecticut, Delaware, District of Columbia, Georgia, Illinois, Kansas, Kentucky, Louisiana, Maine, Massachusetts, Michigan, Minnesota, Mississippi, Nebraska, New York, North Carolina, Oklahoma, Oregon, Pennsylvania, South Carolina, Vermont, Virginia, West Virginia and Wisconsin.
Free trial download of the 2013 / 2014 W2 Electronic Filing utility is available from http://www.realtaxtools.com/.