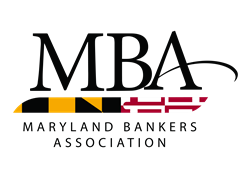 "Watching these banking professionals grow to be experts in effective leadership has truly been a privilege." - Ramon Looby, President and CEO of the Maryland Bankers Association
ANNAPOLIS, Md. (PRWEB) October 11, 2022
The Maryland Bankers Association (MBA) is proud to congratulate the 14 banking professionals who have graduated from its Emerging Leaders "Champion" program on October 6, 2022.
Over the course of the year-long program, the 2021-2022 Emerging Leaders cohort attended a variety of curated events – led by Maryland banking industry experts – aimed at developing a deeper understanding of the financial services industry through active leadership, peer networking, and political involvement.
The 2021-2022 graduating class of MBA Emerging Leader "Champions" includes:

Jason Parker, Vice President / Lending, Bank of Ocean City
Kim Shaw, Vice President, Lending Administration Manager, Community Bank of the Chesapeake
CJ Joyner, 1st Assistant Vice President, Branch Manager & Director of Customer Care, EagleBank
Leah Gregg, Vice President, Treasury Management Relationship Officer, First United Bank, and Trust
Alan Mullendore, Vice President and Managing Director of Client Relationships - East, First United Bank and Trust
Kara Macko, Vice President, Harford Bank
Kameron Shives, Associate Business Analyst, Middletown Valley Bank
Desiree McCracken, Branch Manager, Vice President, Provident State Bank
Kristina Hoffmann, BSA Officer, Queenstown Bank of Maryland
Lourdes Lopez, Remote Relationship Manager, Assistant Vice President, Sandy Spring Bank
Sylvia Morgan, Card Servicing & Fraud Investigations Analyst, Sandy Spring Bank
LaDonna Pimble, Card Operations Fraud Analyst, Sandy Spring Bank
Kris Kozlowski, Branch Manager, Shore United Bank
Gary "J.R." Delauter, Jr., Senior Vice President, Deposit Operations, Woodsboro Bank
"I am incredibly proud of our 2022 class of Emerging Leaders," said MBA President and CEO Ramon Looby. "Watching these banking professionals grow to be experts in effective leadership has truly been a privilege."
MBA also wishes to congratulate this year's 2022 cohort on an extremely successful fundraising campaign for the homeless. Each year, the Emerging Leaders come together to design and complete a philanthropic project of their choosing. This year, the Class of 2022 gathered monetary and physical donations over a period of 10 months and delivered donations to various homeless shelters around the state. Physical donations included blankets, hygiene products, socks, gloves, hats, and scarves. MBA is extremely proud of the commitment this cohort continues to show and its dedication to giving back to the communities they serve.
Following the Emerging Leaders graduation, MBA successfully hosted its annual Banker's Challenge event in Ocean City, Maryland, on October 7, 2022. This event provides bankers the opportunity to connect outside the office through an array of outdoor, team-focused tournaments such as fishing, golf, and cornhole. Congratulations to all the event winners and thanks to the sponsors for helping bring bankers together every year!
About the Maryland Bankers Association:
Founded in 1896, the Maryland Bankers Association (MBA) is the only Maryland-based trade group representing banks in the state. MBA's member banks employ about 28,266 banking professionals in nearly 1,490 branch offices across the state. To find out more information, please visit https://www.mdbankers.com/.