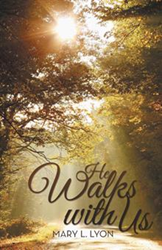 People need a straightforward explanation of the Christian faith. People need Christ.
SACRAMENTO, Calif. (PRWEB) January 08, 2015
Author Mary L. Lyon had just graduated from college with her engineering degree when she decided to become a missionary, something she would do for the next 10 years. Faced with the choice of a lucrative career in engineering and a lifestyle of sacrifice for the good of others, Lyon says the decision wasn't difficult.
"I didn't give up anything and if I was to be an engineer in the future, God would make it so," Lyon says.
Formatted in short, quick-read chapters sprinkled liberally with examples of her own personal challenges and near misses that she overcame only through prayer and faith, Lyon's new book, "He Walks with Us," (published by Inspiring Voices) discusses the ways in which God interacts with people. It tells of how they can better receive him, which she learned during her years of missionary work, two of which were spent in Greece.
"As we learn that God loves and forgives us, we are able to love, forgive and heal," Lyon says.
In "He Walks with Us," Lyon discusses Christianity and the basics of the Christian faith. She also covers the two primary ways in which God interacts with humankind: through his living word, Jesus, and through his written word, the Bible.
Lyon hopes that her book will help readers realize that God is always with them, and that it will inspire them to seek to let God into their lives, and for those who already know Christ, to succeed at continuing God's good work on Earth.
"Christians need forthright answers," Lyon says. "People need a straightforward explanation of the Christian faith. People need Christ."
Lyon will soon release her second book, "Forty Years Later, God's Faithfulness Across Generations." The book is about God's faithfulness to His children as they struggle with day-to-day living. Lyon looks at biblical characters and then shares what she has learned on her journey.
For information about Mary Lyon and her work, visit her website at http://www.HeWalksWithUs.com.
"He Walks with Us"
By Mary L. Lyon
Softcover | 5.5 x 8.5 in | 204 pages | ISBN 9781462409501
E-Book | 204 pages | ISBN 9781462409518
Available at Amazon and Barnes & Noble
About the Author
Mary L. Lyon was a senior in college when she committed her life to the Lord. Following her graduation, she decided to pursue missionary work for 10 years. Twenty years after her graduation, she received her master's degree in engineering management and her professional engineering license in mechanical engineering. She also has her master's degree in counseling. She is now retired and focuses on writing and ministry. She lives with her family in Sacramento, California.
Inspiring Voices, a service of Guideposts, is dedicated to helping authors share their words of hope, faith and inspiration with the world. A strategic publishing partnership with indie book publishing leader, Author Solutions, LLC, Inspiring Voices allows authors to publish inspirational and spiritual books without respect to their specific doctrine, denomination or political point-of-view. Authors published through Inspiring Voices benefit from access to exclusive Guideposts marketing services, with select titles appearing in a special collection at Guideposts.org. For more information on publishing with Inspiring Voices, log on to inspiringvoices.com or call 866-697-5313.