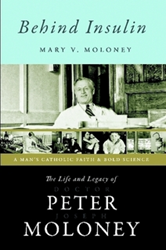 TORONTO (PRWEB) December 12, 2016
"Behind Insulin: The Life and Legacy of Doctor Peter Joseph Moloney" (published by Lulu) is the biography of a Canadian immunologist and vaccine researcher, Dr. Peter Joseph Moloney, whose productive medical research, spanning over 60 years, had an influence in Canada and beyond. Author Mary V. Moloney traces her grandfather, Peter's, interactions with historic figures and shares anecdotes from his life.
The story follows the arc of a seemingly normal man who goes on to become a university professor and an intellectual giant. Mary offers a glimpse into how Peter drew inspiration from his Catholic faith to develop the self-discipline that led to his achievements.
"One of his earliest accomplishments was the first successful large-scale purification of the miracle medicine insulin in 1922, after its discovery in Toronto in 1921, which brought lasting fame to Drs. Banting and Best, and international prominence to the University of Toronto," Mary explains.
Through it all, "Behind Insulin" reveals the portrait of an eminent researcher and educator who was equally devoted to his family and his faith. Mary hopes her grandfather's story will leave Canadian readers feeling proud and encourage all readers to put hard work into that which inspires them most.
More information is available at: drpetermoloney.com.
"Behind Insulin"
By Mary V. Moloney
Softcover | 6 x 9 in | 242 pages | ISBN 9781483458465
E-Book | 242 pages | ISBN 9781483458472
Available at Amazon and Barnes & Noble
About the Author
Mary V. Moloney is the granddaughter of Dr. Peter Joseph Moloney. The author has also published reviews of professional texts in the Ontario College of Teachers magazine, Professionally Speaking.
Lulu empowers people of all ages to explore and express their interests, passions and expertise through books, photography and art. Since introducing self-publishing in 2002, Lulu has empowered creators in more than 225 countries and territories to produce nearly two million publications. Lulu Jr. allows children to become published authors, encouraging creativity, strengthening literacy and building self-esteem. Picture.com offers professional photography of collegiate and professional sports, memorable and historic events, fine art and home décor. For more information, please visit lulu.com.