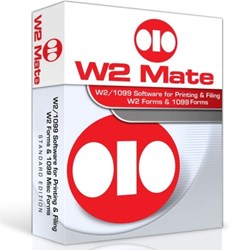 We are proud of our 1099 return reporting solutions and constantly work to make it better. If you've worked with us, you probably know that the software we develop is of exceptionally high quality.
Chicago, IL (PRWEB) November 14, 2013
1099 solutions provider, Real Business Solutions, have introduced a new edition of W2 Mate® software to help Sage 100® (formerly MAS 90 / MAS 200) users comply with the ever-changing 1099 reporting laws and regulations. W2 Mate offers powerful data import engine coupled with advanced W2 / 1099 print, email, e-File and e-Deliver modules that make 1099 processing a breeze for Sage 100 end-users, consultants and IT departments.
By using W2 Mate 2013, Sage users can print W2 / 1099 forms on regular white paper, batch email 1099's to recipients, use bulk TIN matching, apply SSN masking, file 1099 corrections, and process 1099 forms not supported natively by MAS 90 / 200 such as 1099-R, 1099-S, 1099-B, 1099-K, 1099-PATR, 1098 and 1098-T.
A free W2 Mate software evaluation can be downloaded from http://www.W2Mate.com. Customers can purchase the software and receive it instantly. W2 Mate support team can be reached at 1-800-507-1992.
W2 Mate software saves MAS 90 / MAS 100 users' time and money by printing forms 1099 and W2 on regular white paper. This eliminates the need to buy expensive laser red-ink forms. All substitute forms generated by W2 Mate comply with IRS publication 1179 (General Rules and Specifications for Substitute Forms 1096, 1098, 1099, 5498, W-2G, and 1042-S).
The 1099 forms e-mailer utility that ships with W2 Mate helps MAS 90 / 200 users save hundreds of dollars and preserve the planet and its natural systems and resources. The utility offers a great alternative to mailing paper forms to contractors, vendors and recipients. The unique software is capable of emailing thousands of 1099 forms and statements with a click of a button.
W2 Mate 2013 software highlights:

Creates 2013 employee W2's as PDF and recipient (vendor) 1099's as PDF.
SSA approved to print W2 & W3 forms on regular white paper, which eliminates the need for expensive forms.
Prints 2013 1099 recipient copies on regular white paper.
Prepares unlimited number of 2013 W2 and 1099 forms for multiple employers and payers.
E-files 2013 W2s and 1099s with the SSA and IRS (no limitations on the number of tax forms or submissions).
Data import from leading tax, accounting and CRM software applications.
Generates printing labels, form totals and recipient lists.
Efficient and intuitive manual W2 / 1099 data entry.
Supports 1099MISC, 1099K, 1099INT, 1099DIV, 1099R, W2, W3, 1096, 1099S, 1098T, 1098, 1099A, 1099B, 1099C, 1099PATR, 1099OID.
Automatically calculates Social Security and Medicare taxes. For paper filers 1096 and W3 are automatically generated.
Supports Windows 8 / 8.1, Windows 7, Windows Vista, Windows XP, Windows Server 2003, Windows 2000 or Windows 98.
Roll-over of payer and recipient information from year to year.
Password protection and data validation.
Prompt, courteous and reliable U.S.-based support through phone, chat or e-mail.
Network ready with affordable pricing for multiple seats.
Exports W2s and 1099s to excel.
Data Backup and restore.
Great for non-profit organizations.
TIN matching and verification including reports for missing TINs and TIN matching errors.
Built-in links to form instructions and websites for the IRS, SSA and government tax agencies.
Completes employer electronic W-2 forms.
Imports W2 data from EFW2 format and 1099 data from 1099 E-File format.
Give W2 Mate software a test drive and see how easy 1099 reporting can be. Visit 1099 software page on the W2 Mate website.
# # #
Sage 1099 and MAS 90 / 200 are registered trademarks of Sage Software, Inc. Other company and product names mentioned herein are registered trademarks of their respective companies.