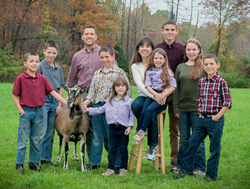 PJ's entreprenurial spirit was evident from the start of Goat Milk Stuff. As she recalls: People at the beginning told me I was crazy. I just ignored them and pushed on.
New York, NY (PRWEB) August 25, 2014
Popular news site Mashable.com featured PJ Jonas, founder of Goat Milk Stuff featuring "5 Business Lessons" that the mom of 8 children, ages 7 to 17, has learned in building her goat milk soap business into an international maker and marketer of goat milk soaps, lotions and more made by PJ and Jim Jonas with help of their children doing age-appropriate chores from milking goats to assisting in the office at their Indiana farm.
PJ's entrepreneurial spirit was evident from the start of Goat Milk Stuff. As she recalls, "People at the beginning told me I was crazy. I just ignored them and pushed on."
From the popular 5-ounce bars of natural chemical-free goat milk soaps available at http://www.GoatMilkStuff.com to the company's array of natural lip balm, body lotions, bath products and laundry soap and more, all Goat Milk Stuff products are made by the family with natural milk from their Alpine goats, which are lovingly raised without chemically produced feeds.
Mashable, the award-winning international online news website focused on social media news, asked PJ about lessons she learned as a busy mom of 8 who developed a hobby into a business.
PJ told Mashable that in building Goat Milk Stuff she learned 5 Business Lessons:
1. Get Out and Talk to Your Customers: Goat Milk Stuff is sold online but the family also markets its goods at local fairs and craft shows where direct customer feedback is invaluable.
2. Expect Copycats: As Goat Milk Stuff's success has escalated, small goat milk soap marketers have tried to copy the company's products and messages.
3. Good Enough is Good Enough. Maintain superior product quality and work to introduce new products responsive to customer needs. However, other areas can be works in progress, such as the company's website that evolved from initially amateurish to sophisticated.
4. Sell Your Story: PJ's story is unique so Goat Milk Stuff actively reaches out to media with TV results including the Today Show, The Doctors, Huckabee, Fox TV, ABC, CBS and more; radio from Bloomberg to local stations have told the story; print such as Oprah Magazine with a feature article about the skin care quality of the soaps and lotions, and thousands of websites reported the family's Goat Milk Stuff story.
5. Accept Sacrifice and Risk: PJ, mom of 8 and former engineer, and former teacher Jim stepped out of their comfort zone and invested all to build a business in the risky soap sector.
PJ is a past winner of the Leading Mom in Business annual competition, and with husband Jim they were presented with Indiana's prestigious EDGE Award for entrepreneurs.
Mashable said, "By the way, if you're thinking that the Jonas family would be a good premise for a reality show, sort of like 19 Kids and Counting meets Duck Dynasty, you're not alone: They've received some interest in that area, Jonas says."
The Jonas family makes all of the soaps, lotions and other Goat Milk Stuff products on their 36-acre Indiana farm, where they make natural goat milk soaps and more, run a store and guest tours, and have plenty of room for the children to play and the goats to graze.
The Jonas family and Goat Milk Stuff maintain an active social media presence with a growing following at Facebook.com/GoatMilkStuff, at YouTube.com/GoatMilkStuff and at Twitter.com/GoatMilkStuff.
Online at http://www.GoatMilkStuff.com, the Scottsburg, Indiana company makes and markets all-natural Goat Milk Stuff™ products including goat milk soaps, lip balms, lotions, bath bombs, laundry soap, gift sets and more. For media or entertainment, contact Brian Dobson at DobsonPR.com or BD(at)DobsonPR(dot)com.