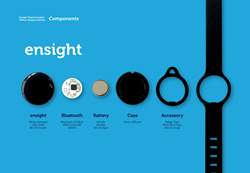 What if we could measure the traffic of these offline events just like a website?
Seoul, Korea (PRWEB) December 04, 2014
Seoul based startup Mashups Co.,Ltd., a pioneer in offline event analytics, is announcing the public launch of Ensight. Ensight is an offline event analytics platform that enables event organizers and sponsors to measure the offline activity of attendees. Ensight integrates Bluetooth 4.0 to digitally quantify engagement levels without changing the habits of visitors. Visitors don't have to install any type of app. No need to scan a QR code. No checking in of any kind. Attendees simply walk around and go about their business. Ensight's indoor location system does the rest.
Mashups Co.,Ltd. was founded by Sean Lee while working for Samsung at Cheil Worldwide, South Korea's largest advertising agency. Sean setup Mashups to address a problem with Below The Line Advertising, specifically trade shows. "Clients would spend millions of dollars to sponsor a major industry event," said Sean, "but it was impossible to accurately measure the effectiveness of the offline event. All we could do was show the client some photos and send them the list of people who manually signed up at the booth. That's when the idea hit me. What if we could measure the traffic of these offline events just like a website?"
Ensight's offline analytics solution is comprised of 3 parts: a Bluetooth Low Energy module linked to the visitor's badge at business conferences or worn on the wrist at music festivals, a cloud based analytics platform, and an optional mobile app. The app is there to provide detailed info and add networking features for visitors. But the analytics solution works even if the visitor doesn't install the app. This makes it possible for the sponsor to measure the activity of every single attendee. Sponsors and event organizers will be able to measure traffic levels in real time.
Ensight's cloud based analytics platform will display new visits, return visits, and visit duration. And for visitors who choose to install the app, sponsors will be able to receive and send contact info and digital brochures in real time. This is done automatically in the background. Visitors don't have to do anything. The wireless sensors will accurately measure when and how long a visitor is at a sponsor's booth. The indoor location system picks up this data and notifies the manager working the booth at the trade show.
"This product has the potential to disrupt and create a new industry standard for offline corporate events," said Sean Lee, CEO of Mashups Co.,Ltd. "Attendees will be able to network with more people and engage with more companies. Sponsors will generate more leads and gain better customer insight. It's a win-win situation."
Ensight provides sponsors with an easy to use dashboard that displays accurate measurements. Data that is collected is organized and can be downloaded to be included into corporate reports. Companies can use the data to communicate with potential customers long after the event has ended. Visitors can view marketing material right on the phone. No need to go through piles of paper decks or stacks of business cards.
About Mashups Co.,Ltd.
Mashups Co.,Ltd. is a startup based in Seoul, South Korea that develops products and services for the B2B market. Mashups develops enterprise solutions to help businesses adapt to the rapidly changing digital landscape. Mashups wants to integrate innovative ideas to make enterprise more efficient. Mashups' first product, Ensight, will help businesses measure the effectiveness of offline events. True ROI can now be quantified without changing the habits of event attendees.