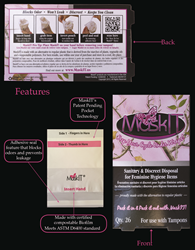 ...I'm so happy MaskIT is able to make things a little easier for girls that love the outdoors.
Ashland, Oregon (PRWEB) July 02, 2015
Packing out used feminine hygiene items has never been an easy task. This is precisely why women are so excited to learn about the MaskIT innovation. In fact, shortly after it's debut at Winter Outdoor Retailer trade show, MaskIT pouches were named in the Top Ten New Gear for ladies by Sarah Blessington with Exploring Elements.
(Winter OR 2015 Top Ten)
The unique features of MaskIT provide an easy solution that keep women clean and are an environmentally friendly alternative to the typical Ziploc bag & duct tape fix. These ingenious benefits lead to MaskIT's first celebrity endorser, Heather Anderson. She holds the record for the fastest completion of the Pacific Crest Trail (for both men and women) and fully endorses MaskIT pouches.
Here is what she has to say: "…MaskIT pouches are indeed easy to use, don't leak, are odor proof, and opaque. They come in different sizes, one for tampons and one for pads. They are easy to use and help make changing out products much more sanitary. While these are great for disposal in both the front country and the back country, I am beyond stoked to use them backpacking…" (Full review)
Since the product-launch back in October 2014, MaskIT has gained distribution in 128 retail locations, 62 of which are outdoor stores. When Shallan Ramsey, inventor and CEO of MaskIT LLC, was asked what she thinks about the unexpected success in the outdoor market she said, "Although I initially didn't realize the genuine need for the product in this market, I'm so happy that MaskIT is able to make things a little easier for girls that love the outdoors."