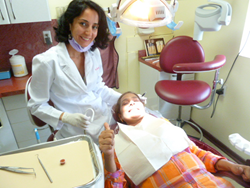 Kids can still experience the fun of trick or-treating, and now their piggy banks will benefit as well
Maspeth, NY (PRWEB) October 23, 2014
Dentist in Maspeth NY Dr. Alexandra Khaimov is leading an anti tooth-decay movement by giving away dollars in exchange for candy. From November 3rd until November 7th, when patients bring in Halloween candy, Dr. Khaimov will give trick-or-treaters $1.00 per pound of candies donated.
"Kids can still experience the fun of trick or-treating, and now their piggy banks will benefit as well." says Dr. Khaimov.
We all know that children love candy, but eating candy is hurting children's teeth and may lead to hyperactivity and weight gain. In some cases, the wrong types of candy can also lead to broken teeth and damaged braces.
Global sugar consumption for kids increase by about 2% annually and currently sits at 50 million tons per year, which means parents need to be sure their kids' teeth are being cared for more than ever.
This is the second year Dr. Khaimov is sponsoring the Halloween Candy Buy Back event. Children and patients can drop off their candies at her Maspeth NY dental office:
Grand Smile Dental: 69-77 Grand Ave, Maspeth, NY 11378
From November 3rd to November 7th 2014, during office hours
But this is not the only event Dr. Khaimov is hosting. She is also sponsoring a "Good Deed" contest to promote good will amongst kids. Children are urged to write an essay about a good deed they performed. And a winner will receive a brand new Kindle Fire.
Details of Dr. Khaimov's other community events can be found online at: http://www.DentistMaspethNY.com/