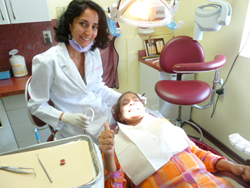 It is important to recognize and acknowledge the people who are making a difference in another's life in big or small ways.
Maspeth, NY (PRWEB) May 26, 2014
For this year's July 4th holiday, Maspeth NY dentist Alexandra Khaimov would like the members of her New York community to give recognition to the Everyday Heroes among them.
"Everyday Heroes' are those ordinary people in the community that have done extraordinary acts of kindness in an effort to make a difference in someone else's life," said Dr. Khaimov.
In order to make this possible, she has organized a "Nominate a Hero" story contest. New York residents can participate by visiting her website and nominating the person they believe is an everyday hero by explaining what the person does that has helped another person or group or the community at large.
"It is important to recognize and acknowledge the people who are making a difference in another's life in big or small ways," said Dr. Khaimov.
Those that participate in this contest by nominating a hero will receive a free teeth whitening kit from Dr. Khaimov's Maspet NY dental office.
Once participants have nominated their heroes on Dr. Khaimov's website, they can urge their family members, neighbors and friends to vote for the "Nominate a Hero" story posted on the website.
Visitors to the website can also read all the "Nominate a Hero" stories that have been posted on the website and vote for their favorite. The nominations and voting are set to end by July 4th 2014.
The nominee that receives the highest number of votes will receive a 500 dollar gift certificate for dental services, while the individuals with the second and third highest number of votes will receive gift certificates for dental services worth 300 dollars and 200 dollars respectively.
Dr. Khaimov is actively involved in different community events and activities in New York.
"I love meeting people. After than being a dentist, another way to brighten up someone's day is to give back to the community." she said.
The Maspeth dentist has organized several free dental days in the past and continues to do so to provide dental services to those that would otherwise not afford it.
She has also mobilized the community in various charitable efforts, including food drives, holiday coat drives and good deed contests. Last month, she mobilized local residents to register as organ donors.
Dr. Khaimov often rewards the members of the community with discounts on dental services when they participate in the different charitable activities. She recently offered a 50 dollar discount towards any dental service for those participating in her April Food Drive.
Dr. Khaimov proudly serves the residents of Maspeth, Woodside, Middle Village, Ridgewood, and Brooklyn. She is currently offering a discounted package for dental cleaning, exam and x-rays. Coupons for the same are readily available on her website.
Visit http://dentistmaspethny.com/ for more information on her dental services and details of other community events in which she is actively involved.