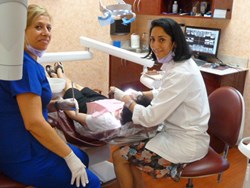 It simply makes me happy to see the young and old and anyone in between getting the dental care they need.
Maspeth, NY (PRWEB) February 05, 2014
Maspeth NY Dentist Dr. Alexandra Khaimov, of Grand Smile Dental, will be helping the residents of Maspeth during these difficult economic times by giving a day of free emergency dental care for anyone in need of dentistry who cannot otherwise afford it.
The date is set for Tuesday February 2tth from 10am to 4pm at 69-77 Grand Ave., Maspeth, NY 11378.
The Emergency Dental Treatment Day is designed to treat anyone (adult or child) for free who has a dental emergency and who cannot afford dental care on a first-come-first-served basis.
Dr. Khaimov was inspired to produce this community effort after reading a report in the New York Times about how an increasing number of Americans are having to forgo dental care because they have no insurance and therefore unable to afford the cost of a visit to the dentist.
Since then, Dr Khaimov has spread her message about the need to increase dental awareness through numerous TV, radio and newspapers interviews.
This event will be the 5th free dental event Dr Khaimov has sponsored.
In addition to it, Dr Khaimov, dentist in Maspeth, has also held numerous community events including food drives, Halloween candy-buybacks for encouraging children not to eat the candies after Halloween and also Do A Good Deed contests which inspired youths to focus on performing good deeds.
"I would like to do my part as a dentist to help and hope other healthcare providers would join me and organize a similar effort in their community to help keep our fellow Americans healthy," explained Dr. Khaimov.
Dr. Khaimov added, "We will be conducting similar community events in Maspeth periodically throughout the year to help the less fortunate in our community."
Details of Dr. Khaimov's other community events can be found online at; http://dentistmaspethny.com/index.php/category/maspeth-dentist-helps-the-community/.
"It simply makes me happy to see the young and old and anyone in between getting the dental care they need," smiled Dr. Khaimov dentist Maspeth.