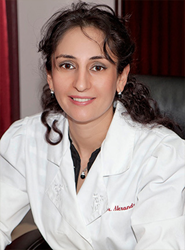 To prevent TMJ problems, patients should have any missing teeth replaced as soon as possible
Maspeth, NY (PRWEB) May 14, 2014
A research paper recently published in the International Journal of Medical Sciences found that missing teeth have a significant effect on the prevalence of TMD among both men and women, while 80 percent of the TMD patients experienced pain as a symptom.
'Temporomandibular joint disorders' (TMDs) is an umbrella term that covers various acute and chronic problems related to the jaw, head, face and neck. TMD is often referred to as 'The Great Imposter' in the medical community because of the difficulty in diagnosing it because of its wide range of symptoms.
In addition to its varying symptoms, TMD also has different possible causes, one of which is missing back teeth that are not replaced, as confirmed in the research paper.
Maspeth NY dentist Alexandra Khaimov said a lot of patients ignore missing back teeth because they are hidden and do not cause immediate negative effects. However, she warns that ignoring these teeth could lead to temporomandibular joint (TMJ) problems.
"When one or more back teeth are missing, this changes the occlusion, or how a person bites, causing the bite as well as the jaw joint to be misaligned," said Dr. Khaimov.
Misaligned teeth do not fit together when chewing, and the surrounding muscles and joints must work harder to compensate for the misalignment. As a result, the jaw muscles tense at unusual angles, which then places stress on the TMJ (jaw joint).
This muscle tensing and joint stress ultimately affect other parts of the body, including the neck and shoulder. As a result, a person may experience headaches, migraines, neck, shoulder and even back pains.
"Unfortunately, a lot of people experiencing such symptoms will not receive proper diagnosis on the root cause of the problem because the symptoms may be caused by any number of conditions," said Dr. Khaimov.
In her dental practice, the dentist Maspeth NY checks for TMJ problems during the initial examination. She has found that many patients are indeed affected by TMD symptoms even though most of them did not realize that it resulted from misaligned teeth.
"To prevent TMJ problems, patients should have any missing teeth replaced as soon as possible since it becomes harder to fix the problem the longer it takes to seek treatment," she concluded.
Dr. Alexandra Khaimov offers dental implants and dentures as part of her tooth replacement treatments to residents of Maspeth, Brooklyn, Middle Village, Ridgewood and Woodside.
She is currently offering a special discounted dental examination and cleaning package to encourage better oral health and proper diagnosis of TMJ problems in her community.
For more information, visit [http://dentistmaspethny.com/.