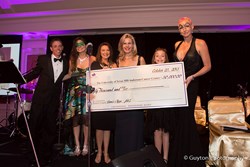 We are so grateful for the continued support as we move forward in our efforts to fund the targeted therapy research at MD Anderson.
Houston, TX (PRWEB) November 01, 2013
The Jamie's Hope Foundation raised over $111,000 at its Second Annual Masquerade for a Cure Gala this past Friday. The ballroom at River Oaks Country Club was decked out in Gatsby-inspired décor and guests enjoyed an exquisite evening in support of targeted therapy research at the University of Texas MD Anderson Cancer Center.
The VIP reception, "A Private Champagne Affair," took place in the salon area from 6pm-7pm for VIP ticketed guests. White and gold decorations filled the room. A ten-foot diva dressed in an all-white vintage ensemble greeted guests upon arrival, while two candy girls offered champagne. Electronic violinist, Alisa Peterson, stood next to the champagne tower, playing beautifully as the guests mingled and took pictures at both the step and repeat banner and in the photo booth provided by Shutterbooth.
The ballroom doors opened promptly at 7pm, revealing a grand room that had been lit with purple lighting and set with black and gold table décor and elaborate candelabra centerpieces, as well as the 12-piece band, the Richard Brown Orchestra. J&D Entertainment didn't disappoint with its Gatsby entertainers: stilt-walking flapper girls, choreographed Charleston-style dance numbers, and candy girls. Guest speaker Dr. A. Maria Tsimberidou and associate director of philanthropic resources at MD Anderson Robin Trout took the stage to accept a $50,000 check from the Jamie's Hope Foundation, representing the results of past fundraising efforts. The whopping silent, big board, and live auctions led by emcee Scott Sparks were a smash hit.
The support of both the monetary and in-kind sponsors of this year's gala made it into the wonderful evening that it was. The official sponsors included TCP Capital Partners, Greenberg, Grant & Richards, the Spectrum Building, Adams & Reese LLP, Southwest Infiniti, Thru Tubing Solutions, and Amegy Bank. EnVogue Events led the way on all things décor. DJU Productions provided the pipe and drape work, along with the ambient lighting, while Dream Bouquet supplied the elegant centerpieces. Over The Top made sure that the linens and napkins were perfect and For Heaven's Cake offered up a gorgeously decorated three-tier cake. Other in-kind sponsors included Acme Party and Tent, Affordable Sound Productions, Any Occasion Party Rental, Guyton Photography, Quy Tran Photography, EarchPhoto, Brandy Stoesz Photography, J&D Entertainment, Richard Brown Orchestra, Print Rite Inc., Signature Aspen Imaging LLC, IW Marks, Make It Complete, Brand New Media, ProActive Media Group, Del Frisco's Double Eagle Steak House, and Houston Modern Luxury Magazine.
Playing major roles in the success of the event were guests such as honorary chairs Bob Allen, Michael Chabala, John and Elizabeth Ehrman, Mark Levesque, Milovy Rodriguez, Angela Lipsey, Brad and Joanna Marks, Trey and Jessica McCreary, Brent Milam, Lara Bell, Dr. Lamar and Theresa Roemer, Rucks and Simone Russell, David and Lauren Thomas, Kevin and Caroline Walter, and Lee and Seliece Womble. Among the supporters were Chris and Jenny Myers, Peter Remington, Susan Walker, Dr. Quang and Staci Henderson, Doug and Teri Viereck, Dr. Michael and Alexandria Ochoa, Dr. Eric and Argenae Price, and Chris and Dena Winkler.
"We couldn't be happier with this year's gala," said Jamie Gilmore, founder of Jamie's Hope. "We are so grateful for the continued support as we move forward in our efforts to fund the targeted therapy research at MD Anderson."
The Jamie's Hope team works year-round to produce top-notch fundraising events benefiting MD Anderson Cancer Center, as well as participating in and producing events for other charitable causes that directly affect the Houston community. The success of Jamie's Hope events are credited largely to the sponsors, who lend their names and financial support. By participating as a sponsor, your organization can benefit from extended exposure through media campaigns and promotional efforts. For a small donation, companies enjoy excellent exposure to an important segment of their target audience, while helping Jamie's Hope accelerate groundbreaking cancer treatments and aiding cancer patients in need. For more information on becoming a sponsor of this non-profit foundation, please contact Amanda@ProActiveMediaGroup.net.